What is gynecomastia?
Gynecomastia is a common condition that affects up to two-thirds of adolescent males as a result of a hormone imbalance during puberty. In most teens, the excess glandular tissue resolves naturally over time. But in approximately 1 out of 4 men, the excess tissue persists, resulting in features such as a puffy nipple, a breast mound, or other unfavorable contours like overdeveloped or enlarged breasts. You may have gynecomastia if you feel rubbery, firm tissue under your areola (nipple area) or firm tissue that extends to the outer part of your chest.
Can a plastic surgeon improve gynecomastia?
Yes, a plastic surgeon can remove excess tissues to improve the appearance of the chest. This procedure is colloquially called male breast reduction or gynecomastia surgery (reduction mammaplasty is the technical term). San Diego board certified plastic surgeon Dr. Katerina Gallus has over 15 years of experience performing male breast reduction for gynecomastia.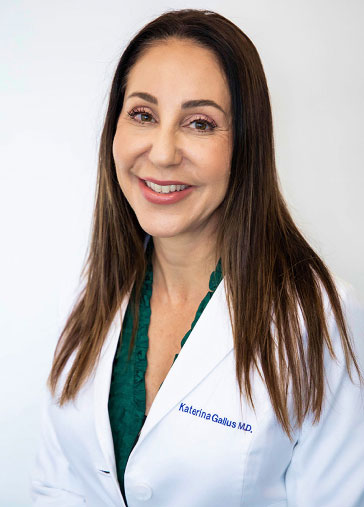 Dr. Katerina Gallus
Dr. Gallus has over 20 years of experience and is a fully credentialed, board certified plastic surgeon. She will partner with you to develop a tailored surgical plan that prioritizes your safety and results.
You may be a good candidate for male breast reduction if…
You have enlargement of one or both breasts
You are self-conscious about the condition
You are motivated to improve your appearance through surgery
You are at a stable, healthy weight
You are not taking blood thinner medications or using nicotine products
How gynecomastia surgery works
There are several ways to approach excess male breast tissue, but the most common ways involve a combination of direct removal (excision) of the glandular tissue and liposuction. If you have excess tissue and skin, you may also require skin excision in addition to surgical reduction of the breast tissue.
What to expect from the procedure
Male breast reduction surgery is most often performed under general anesthesia to offer maximum comfort and ensure safety. The surgery usually takes 1-2 hours depending on your degree of gynecomastia and individual surgical plan. Dr. Gallus will carefully mark the areas of excess tissue and fat and mark the planned incisions on the breast(s) prior to surgery.
Dr. Gallus will begin with small incisions on the chest to infuse saline fluid containing lidocaine (for numbing the area) and epinephrine (to decrease bleeding) in the chest area. Using liposuction, Dr. Gallus will then remove the unwanted excess fat from the breast. Next, a small incision is extended around the bottom edge of the areola, and the excess glandular tissue is removed. Glandular tissue feels firm or rubbery—differing from fatty tissue—so direct excision in conjunction with liposuction is the most effective treatment to achieve optimal results. In certain cases, skin excision is performed, so be aware that the type of incision and technique used is tailored to your individual appearance and desired outcome.
Once the tissue is removed and an optimal chest contour is achieved, the incisions are closed with absorbable sutures. Most patients do not require drain placement. Surgical dressings are applied and a compression vest is placed to ensure that swelling is minimized and a smooth contour is maintained.
Our preferred liposuction technique
At Restore SD Plastic Surgery, we utilize the SAFELipo™ liposuction technique to safely and consistently offer optimal results. The procedure starts with power assisted liposuction (PAL®). PAL® uses small vibrating cannulas (hollow metal tubes) to assist in loosening and suctioning the unwanted fat cells. PAL® decreases surgeon fatigue (compared with traditional lipo) and improves surgical precision—all while reducing tissue trauma for a quicker recovery.
Recovery after surgery
Gynecomastia is an outpatient surgery, so once you have recovered from anesthesia you are able to go home with a responsible adult. You should arrange to have a friend or loved one stay with you for the next one to two days. Here is what you can expect in the weeks following gynecomastia surgery:
Some surgical pain is expected and is treated with pain medications.
Most patients will not have drains to care for.
While you will be able to shower the next day, you should refrain from soaking in a tub or swimming for 2 weeks.
You will be able to engage in normal daily activities such as eating and walking after 24 hours, but intense physical activity and exercise should be avoided for 4-6 weeks.
Most patients return to work after 1-2 weeks.
You will wear the compression vest for 4-6 weeks after surgery.
During the recovery period, you will have follow-up with Dr. Gallus and will be guided back to your usual activities. Most complications occur from getting too active too early, so select a surgical date that allows an appropriate amount of time to heal and gradually return to your more vigorous activities.
Commonly combined procedures
In many cases, gynecomastia surgery can be combined with other aesthetic procedures; the most common combination procedure that patients choose is liposuction for other areas of the body. We can often use SAFELipo™ to address stubborn fat around the waist, for example, easily and safely during the same procedure as male breast reduction.
"I truly cannot say enough about Dr. Gallus, what an amazing doctor! I had been to several surgeons looking for that "right fit" and didn't find it until I met Dr. Gallus. I felt instantly upon meeting Dr. Gallus that she was the doctor for me. From my first appointment with her to my post-op appointments, I felt as if I had known her for quite some time. I never felt like I was just another patient but felt as if she was a friend that I could explain my concerns to. She made me feel comfortable and helped me put together a surgery/treatment plan that I felt good about…I am so grateful that I kept looking to find the right doctor and that I found Dr. Gallus. I would recommend her to anyone and everyone again and again."
—Actual patient of Dr. Gallus
Choose female plastic surgeon Dr. Katerina Gallus for your male breast reduction in San Diego
Katerina Gallus, MD is a female cosmetic plastic surgeon who is board certified by The American Board of Plastic Surgery (ABPS). With over 15 years of experience as a plastic and reconstructive surgeon, Dr. Gallus has the skills and expertise to develop a safe surgical plan that achieves your desired results. To schedule your consultation, call 858-224-2281 or contact us online.
---
Gynecomastia FAQs
What happens at my gynecomastia (male breast reduction) consultation?
When you arrive at Restore SD Plastic Surgery in San Diego to discuss gynecomastia surgery, Dr. Gallus will examine you, review your medical history, and talk with you about any medications you take. We will take photos of your area of concern with our Vectra 3D imaging system and, while looking at your photos, discuss treatment areas and options. We use state of the art Canfield software that allows us to view potential surgical results together, make adjustments, and ultimately come to an understanding of your desired outcome.
Why should I choose Restore SD Plastic Surgery for my male breast reduction surgery?
Dr. Katerina Gallus is a fully credentialed, board certified plastic surgeon who holds over 15 years of experience with cosmetic and reconstructive surgery. With a background as a Navy plastic surgeon, Dr. Gallus is a highly skilled surgeon who prioritizes your safety. She also takes the time to listen to you, and partners with you to develop a surgical plan. Read more about Dr. Gallus here »
How do I choose a surgeon for male breast reduction?
Look for board certification, years of experience, and particular expertise in your desired procedure. As a plastic surgeon who is board certified by the American Board of Plastic Surgery (ABPS), Dr. Gallus has years of training and expertise in breast surgery that cannot be imitated by short courses and alternative certifications. Dr. Gallus is proficient in breast surgery, and male breast reduction procedures in specific. It is important to ask if your surgeon is Board Certified by the American Board of Plastic Surgery. The American Board of Plastic Surgery is one of 23 members of the American Board of Medical Specialties. These specialties represent the traditional core of fully trained specialists. Alternative boards have cropped up over the last several years to try to lend legitimacy to incompletely trained or poorly trained practitioners. Accept nothing less than a surgeon certified by the American Board of Plastic Surgery who preferably is a member of the American Society of Plastic Surgeons (ASPS) and American Society for Aesthetic Plastic Surgery (ASAPS).
What about my nipples? Are they removed? Will I have sensation after male breast reduction, with or without liposuction?
Nipples are important! They are not removed in 99% of male breast reduction procedures that we perform, although this is a common question. When you wake up from surgery, although you will have some post-operative discomfort, most men don't feel sensation in their chest skin or nipples. Over the next few weeks to months, sensation to the skin and nipple areolar complex returns. Some men can have permanently decreased nipple sensation after surgery.
How long do the results of male breast reduction surgery last?
Breast volume does not usually change unless there are significant fluctuations in weight or use of medications that can promote male breast enlargement. (The fat cells removed with liposuction are permanently gone, but any remaining fat cells may still grow if your weight increases.) In general, most men enjoy the benefits of male breast reduction surgery for many years. Some may want a small cosmetic touch up down the road and some may never require or want any other male breast surgery.
What causes gynecomastia?
The most common cause of gynecomastia in adults is a hormone imbalance, which occurs in 25% of men over 50 years of age. Excess breast tissue can also result as a side effect of certain drugs and medical conditions.
How much time off work should I take after gynecomastia surgery?
Depending on your profession and extent of surgery, you should expect to take 1-2 weeks off from work. You will not be able to drive while taking narcotic pain medication. You will need a ride home after having general anesthesia and have a friend or family member stay with you for the first night and a day or two if possible.
How do I minimize post-operative scarring after male breast reduction surgery?
The team at Restore SD Plastic Surgery will talk with you about managing scarring during recovery; it takes about 9-12 months for a surgical scar to fully mature. During this time, we may recommend sun avoidance, scar massage, scar cream, and/or fractionated laser treatments to help minimize your scar's appearance.
What should I do to prepare for male breast reduction surgery?
Talk with any close friends or relatives who have had gynecomastia surgery. Educate yourself by reading our procedure page and viewing our educational videos, and look for more information from sources like RealSelf and WebMD. And finally, remember to wear a button-down shirt on the day of your surgery.
I am a smoker – can I have surgery for gynecomastia?
You should abstain from nicotine for 8 weeks before surgery. Use of nicotine products, like smoking or vaping, has a negative effect on wound healing and heightens your risk for nipple loss, infection, and prolonged incision healing. We perform a simple urinary nicotine test in our office to ensure you have a safe, gratifying experience.
What do I need to know about male breast reduction surgery if I have diabetes?
Surgery can be safely performed, but requires a coordinated effort from patients, surgeons, and medical doctors to attain outstanding results. Diabetes can increase your risk for prolonged wound healing and certain types of infections, so work with your medical team to maintain an ideal HbA1C. In some cases, Dr. Gallus may want to postpone surgery until your diabetes is under better control.
How soon can I travel after having gynecomastia surgery?
Schedule your surgery for a date that gives you plenty of time to recover and return gradually to your normal activities. Surgery involves a commitment to an appropriate recovery, and flying, driving long distances, or leaving the immediate area are not recommended until you have been cleared by your surgeon. If you have specific travel needs or would like advice for emergency travel soon after a procedure, please let us know and we will be glad to discuss the details with you.
Do I have gynecomastia if I only have puffy nipples?
If you have nipples that stay large and "puffy," you may have gynecomastia. This is usually seen in very lean patients. When you have mostly muscle and very little body fat but still have gynecomastia, it can appear as a small amount of breast tissue behind the nipple areola complex. This makes them look puffy. Conservative surgery to remove most of this abnormal tissue can restore your appearance to a normal, flattened look.
Can my large nipples/areolas be treated during gynecomastia surgery?
Yes. Although not very common, if your areola (the pigmented area around the nipple) is larger than normal (3-3.5 cm in men) the excess can be removed surgically.
Is there a pill I can take for gynecomastia instead of surgery?
Some clinics offer tamoxifen (Nolvadex) or raloxifene (Evista) as a gynecomastia treatment therapy. These medications block the effects of estrogen and can offer some improvement in certain patients who have had gynecomastia for less than a year. However, this has been proven most helpful as a preventative measure in patients undergoing treatment for prostate cancer, who are at high risk for developing gynecomastia as a side effect of their treatment. At Restore SD Plastic Surgery, our experience is consistent with the research: the pill therapy is an incomplete and ineffective treatment for most patients, and surgery remains the gold standard for gynecomastia correction.
When can I work out again after gynecomastia surgery?
It is important to remain pretty relaxed for the first 2 weeks after surgery. Your activities should be limited to usual daily activities. After that, increasing your activity slowly is acceptable, but lifting anything heavier than 10 pounds is off-limits until approximately 4-6 weeks after surgery to ensure you heal properly and without complications. Dr. Gallus will continue to follow up with you regularly after surgery to ensure you are able to return to exercising as soon as it is safe.
How much does gynecomastia surgery cost in San Diego?
Each gynecomastia procedure is uniquely tailored to you, so you will receive a detailed fee quote after your consultation with Dr. Gallus. The type and number of procedures performed is a key factor in the cost of male breast reduction: while some patients only require liposuction, many patients need a combination of tissue excision and liposuction, and some patients will require additional skin removal for an optimal result. ​Factors such as surgical fees, facility fees, and anesthesia fees also affect the ultimate cost of gynecomastia surgery in San Diego.
---
To learn what male chest reduction surgery can do for you, schedule your consultation with board certified plastic surgeon Dr. Katerina Gallus at Restore SD Plastic Surgery in San Diego. Dr. Gallus partners with you to understand your goals and achieve them safely, with proven treatments and procedures. Call 858-224-2281 or contact us online to schedule your appointment today.
Your Safety = Beautiful Results

Gynecomastia at Restore SD

At Restore SD Plastic Surgery, we maintain the highest level of clinical competence and integrity—this means we always place patient safety first. As a board-certified plastic surgeon and former Navy plastic surgeon, Dr. Katerina Gallus only operates at fully accredited, private outpatient surgical facilities located within minutes of our office. She also holds hospital privileges at Scripps Memorial Hospital La Jolla.