The Best Vectra 3D Imaging Candidates
A breast augmentation patient who wants to individualize treatment by visualizing potential results and viewing what different size implants look like.
A liposuction patient who wants to visualize your new slimmer shape.
A patient interested in facial rejuvenation who wants to see what precise anatomic sculpting can accomplish to restore and revive your look.
A Brazilian Butt Lift (BBL) patient who wants to partner with your surgeon to determine the best size and proportion for your new body.
What is Vectra 3D Imaging?
The Vectra® imaging system combines three-dimensional photography with computer software that allows patients to preview what they will look like after breast augmentation, facial procedures and other types of cosmetic treatments.
Your Vectra 3D Imaging Options
When it comes to preoperative visualization of potential results, there is no better tool for strengthening the partnership between surgeon and patient than the Vectra 3D imaging system. You don't need to look through old photo books of other people's results. You don't need to guess how that next size bigger or smaller implant will change your result – you can see it. We can use your own photo and the powerful Canfield software suite to show you what YOU can look like after a procedure with Dr. Katerina Gallus.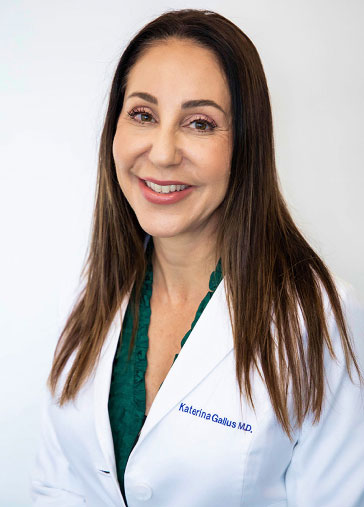 Dr. Katerina Gallus
Dr. Gallus has over 20 years of experience and is a fully credentialed, board certified plastic surgeon. She will partner with you to develop a tailored surgical plan that prioritizes your safety and results.
Why We Take Photos
At Restore SD Plastic Surgery, we are committed to achieving the most outstanding, consistent, and reproducible results possible. To that end, we have dedicated a section of our office to creating a state of the art photo studio that houses both the Vectra 3D imaging system as well as a traditional digital camera set up. Capturing accurate "before" pictures allows your Restore SD surgeon to better plan and carry out your surgery in the safest and most efficient manner. Pointing out subtle pre-existing breast asymmetries or seeing differences in facial features can help ensure that you have a full understanding of what your individual procedure can and cannot accomplish. Following surgery and through various stages of healing, "after" photos are taken to review with you and help your Restore SD surgeon continue to grow and deliver outstanding care as time goes by.
"I had an excellent experience. The practice is impeccable. I loved their 3D imaging machine that shows you your entire procedure outcome before it happens. It helped me feel confident with my decision. The best thing about Dr. Gallus is there is no pressure, she asks you what is most important to you and figures out a way to make you happy."
——Actual patient of Dr. Gallus
The Vectra 3D Imaging Process
As part of your consultation, you will be guided to the photography suite to have both Vectra 3D images and traditional photos taken. The photos are immediately available so that you are able to review your photos in the consultation room with your Restore SD plastic surgeon. This allows for enhanced communication and a shared understanding of what the surgery can accomplish. At Restore SD we strongly believe that this technology helps you decide on the ideal treatment plan and increases patient satisfaction.
How are my photos used?
When you visit Restore SD Plastic Surgery you will have the opportunity to sign a consent form detailing the permissions for use of your photographs. We rely on our patients to help educate other patients as well as ourselves. Please ask during your consultation if you would like more information about our photography policies.
Who can see my photos?
Your photos are added to your Patient NOW electronic medical record and become part of your permanent HIPAA-compliant record at Restore SD Plastic Surgery. Your surgeon will review your photos with you prior to your procedure and following surgery, but they are otherwise not used without your permission.
Your Safety = Beautiful Results

Vectra 3D Imaging at Restore SD

At Restore SD Plastic Surgery, we maintain the highest level of clinical competence and integrity—this means we always place patient safety first. As a board-certified plastic surgeon and former Navy plastic surgeon, Dr. Katerina Gallus only operates at fully accredited, private outpatient surgical facilities located within minutes of our office. She also holds hospital privileges at Scripps Memorial Hospital La Jolla.