The Best Candidates
According to the most recent statistics from The American Society for Aesthetic Plastic Surgery, liposuction remains the most popular cosmetic surgical procedure performed in the United States. Men like you are increasingly having cosmetic procedures, an increase of 325% since the American Society for Aesthetic Plastic Surgery began its survey in 1997.
Have good skin tone without excess loose skin
Are not using liposuction as a weight loss procedure
Are healthy and not taking any blood thinner medications
Have localized areas of excess fat amenable to liposuction
Are motivated to improve your appearance through liposuction
Are at a stable weight and leading a healthy lifestyle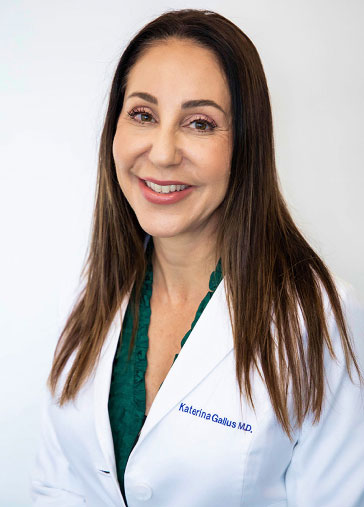 Dr. Katerina Gallus
Dr. Gallus has over 20 years of experience and is a fully credentialed, board certified plastic surgeon. She will partner with you to develop a tailored surgical plan that prioritizes your safety and results.
The Options
Several variations are common in the modern performance of liposuction. At Restore SD Plastic Surgery we combine professional expertise, scientifically proven equipment, and established technique to achieve your best result. We utilize SAFELipoTM to safely and consistently offer optimal results. This is a means of Separation, Aspiration, and Fat Equalization by suctioning fat and then distributing the remaining fat to create a smooth contour and facilitate maximum skin tightening while avoiding tissue injury or contour irregularities.
We don't believe in gimmicks and are conscious of the potential risks of using heat generating techniques such as laser, radiofrequency or ultrasound assisted liposuction. These techniques rely on heat to augment the process but lead to thermal tissue damage and inflammation. We know that "smart" liposuction is defined by a board certified plastic surgeon performing the operation and not the equipment.
Although there are many options for treating stubborn fat deposits, liposuction remains the gold standard. Non-invasive techniques have their place in the spectrum of potential treatments but don't physically remove the fat cells. Non-invasive results take time and often require multiple treatments. Liposuction is ideal for patients with fat deposits that are located in specific areas and associated with minimal overlying skin laxity. Excess fat can create an unbalanced contour and liposuction directly removes this fat with minimal downtime and in a single treatment.
Your Restore SD surgeon will tailor an optimal surgical solution for your specific needs. As always, our goal is to deliver the highest quality surgical result in a manner that individualizes treatment and accounts for the subtle nuances of ideal form.
"The consultation is what convinced me to use Restore. I had several other consultations and none compared to Restore SD. There was no hard sales pitch or recommendation to have a procedure done that was more than what was needed. At Restore the office staff is friendly, patient and knowledgeable. The surgical staff was beyond wonderful. This wasn't my first experience with plastic surgery and by far Restore has been the best. Dr. Gallus is amazing. She listens to your needs, makes sure you understand what she is able to do and address' all of your concerns…I highly recommend Restore SD."
—Actual patient of Dr. Gallus
The Surgery
Liposuction is most often performed under general anesthesia as a stand-alone procedure or combined with other surgeries The surgery can take as little time as 30 minutes or last up to 3 hours depending on the areas treated. Your Restore SD surgeon will make one or more very small incisions in the region to be treated. The next step is to infuse a saline-based solution containing epinephrine and lidocaine to help reduce blood loss and minimize pain. Once the solution has been allowed to set, the surgeon will then proceed with SAFELipoTM. This technique is a means of Separation, Aspiration of Fat and Equalizing the remaining fat to create a smooth contour and facilitate maximum skin tightening while avoiding tissue injury or contour irregularities. SAFELipoTMutilizes power assisted liposuction (PAL®) which decreases surgeon fatigue, improves surgical precision, and reduces tissue trauma. Your Restore SD surgeons have been using the PAL® system for over 10 years. We are proud to be the only San Diego board certified plastic surgeons to take this common and effective technique to the next level – SAFELipoTM.
The PAL® system is used in all three stages of the SAFELipoTM technique. In the first step, the fat is Separated with special cannulas. This loosens the fat and makes the fat removal step more effective. Next the surgeon removes the fat with small cannulas. With the PAL® system, fat removal is more safely and effectively accomplished and leads to reduced blood loss and tissue injury during this stage. Once the desired contour has been achieved Fat Equalization takes place. Again, a special cannula is inserted and the remaining fat is dispersed over the treatment area to ensure a smooth result. Lastly, the small incisions will be closed with dissolvable suture and dressings will be placed. At the end of surgery, you will be placed in the appropriate compression garment to assist with recovery.
The Recovery
You will be fitted with a compression garment to support your new and improved contour. This should be worn under your regular clothes for the next 4 weeks to minimize swelling. Although there may be some bruising and swelling immediately after surgery, your newly improved shape will become apparent soon after the surgery. Your physique will continue to improve over the next 3 months. Your recovery will vary depending on the amount of fat reduction and the number of areas treated. Most patients are sore after surgery but do not experience a significant amount of pain. Pain medication and antibiotics will be prescribed for the first week following surgery. While you will be able to shower the next day, you should refrain from intense physical activity for 4 weeks. During the recovery period, you will have follow-up with your Restore SD surgeon and will be guided back to your usual activities. Most complications occur from getting too active too early, so select a surgical date that allows an appropriate amount of time to heal and gradually return to your more vigorous activities. The positive benefits of liposuction can be undone with weight gain – lasting results are enhanced by a continued commitment to healthy living. Happily, most patients are motivated by their new and improved appearance to maintain a healthy lifestyle.
Commonly Combined Procedures
Although frequently performed as a stand-alone procedure, liposuction is a versatile surgery and can be used to enhance the results of other procedures. In men, liposuction is most commonly performed with gynecomastia (male breast reduction) surgery. It can be used to improve the results from face lift and can be used to help define areas of the abdomen and arms.
Your Safety = Beautiful Results

Liposuction for Men at Restore SD

At Restore SD Plastic Surgery, we maintain the highest level of clinical competence and integrity—this means we always place patient safety first. As a board-certified plastic surgeon and former Navy plastic surgeon, Dr. Katerina Gallus only operates at fully accredited, private outpatient surgical facilities located within minutes of our office. She also holds hospital privileges at Scripps Memorial Hospital La Jolla.
---
Men's Liposuction FAQs
What happens at my liposuction consultation?
When you arrive at Restore SD Plastic Surgery to discuss liposuction, your Restore SD surgeon will perform a detailed examination as well as review your medical history and any medications you are taking. At your consultation, you will have photos taken with our Vectra 3D imaging system and discuss treatment areas and options while viewing your photos series. With our state of the art Canfield software, potential surgical results can be viewed and adjustments can be made, helping you to visualize possible outcomes.
Why should I choose Restore SD Plastic Surgery for my liposuction?
The surgeons at Restore SD Plastic Surgery have over a decade of experience with cosmetic and reconstructive surgery. In addition to being fully credentialed, we take the time to listen to your goals and partner with you to develop the best and safest surgical plan that will optimize your results and leave you looking and feeling your best.
Why is liposuction for me?
Liposuction can be a major surgical procedure and is not to be considered lightly. Getting rid of those stubborn areas of fat that won't go away no matter how much you work out can be very rewarding. Liposuction restores the natural anatomic proportion of treated areas and helps tighten the skin. Although non-invasive body contouring is effective in the right patient, no other procedure can remove the excess fat as efficiently. The incisions will vary a little from person to person since everyone is built and proportioned a bit differently. Your Restore SD surgeon will discuss your options and partner with you to develop the best and safest surgical plan to maximize your results.
How do I choose a surgeon for liposuction?
It is important to ask if your surgeon is Board Certified by the American Board of Plastic Surgery. As Board Certified plastic surgeons at Restore SD, we have years of training and expertise in body contouring surgery that cannot be imitated by short courses and alternative certifications. Ensure that your surgeon is proficient in liposuction and capable of handling any complications that may arise. The American Board of Plastic Surgery is one of 23 members of the American Board of Medical Specialties. These specialties represent the traditional core of fully trained specialists. Alternative boards have cropped up over the last several years to lend legitimacy to incompletely trained or poorly trained practitioners. Accept nothing less than a surgeon certified by the American Board of Plastic Surgery and who is a member of the American Society of Plastic Surgeons (ASPS) and the American Society of Aesthetic Plastic Surgeons (ASAPS).
How much time off work should I take after liposuction?
Depending on your profession and extent of surgery, you should expect to take 1-2 weeks off from work. You will not be able to perform strenuous activities for 2-3 weeks following surgery. Patients cannot drive while taking narcotic pain medication and should plan to have a friend or family member drive them to and from appointments during the early recovery period.
How long will the results of liposuction last?
The fat cells that are removed are gone forever, however it is important to continue healthy habits as gaining weight after surgery can affect results. Your remaining fat cells can expand and other untreated areas can gain weight, potentially disproportionately after surgery. The good news is that most patients are motivated by their new improved appearance and continue to stay fit.
Will liposuction fix my cellulite or wrinkled skin?
There is no magic wand, ointment, or cream that will fix cellulite, but an individualized skin care plan can help. Wrinkled skin can be made worse after liposuction since the underlying volume will be decreased by removal of fat cells. Your Restore SD surgeon will evaluate your skin quality and elasticity to help determine if liposuction is right for you.
How long is the healing process after liposuction?
Liposuction is a disruptive process and although the contour of the area treated is improved within a few weeks, depending on the amount of fat removed and the areas treated it can take up to 6 months to achieve a final result. Wearing your compression garment as prescribed after surgery will go a long way to achieving that smooth and shapely appearance you want.
How much does liposuction cost?
The cost of liposuction varies depending on the areas to be treated and the amount of fat to be removed. The other important variable in cost is who is performing the procedure. Since liposuction is not restricted by certification it is often offered at lower costs by those with little or no formal training. It is more important to seek a surgeon that is qualified, experienced, and with whom you feel comfortable rather than the cheapest deal in town.
How do I minimize post-operative scarring after liposuction?
Unfortunately, scarless surgery does not yet exist. However this procedure is performed through very small incisions so there are only a few small scars to treat. Your Restore SD surgeons will educate you about scar management postoperatively. A surgical scar will take 9-12 months to fully mature. Your scar will go through changes during the healing process and your Restore SD team will help you manage this part of your recovery. This can consist of sun avoidance, scar massage, scar cream, and fractionated laser treatments.
What should I do to prepare for liposuction surgery?
If you have close friends or relatives who have had liposuction – start there! A personal story of their journey may guide you to questions to ask your surgeon, and having someone with a shared experience is invaluable. Educate yourself by reading our procedure page and viewing our educational videos. Other sources of information include RealSelf and WebMD.
I am a smoker – can I have liposuction?
At Restore SD Plastic surgery, we pride ourselves in delivering safe, consistent, and reproducible results. Smoking tobacco or using any nicotine products has adverse effects on wound healing. Your risk of tissue loss, infection, and prolonged incision healing are much higher if you use nicotine. We recommend a nicotine free period of 8 weeks prior to surgery and at a minimum 4 weeks post operatively. We have a simple urinary nicotine test that we complete in the office to help you on your journey to a safe and gratifying surgical experience with us.
I have Diabetes – what do I need to know about having liposuction?
If you have diabetes it is important to work with your medical team to maintain an ideal HbA1C. Diabetes can increase your risk for prolonged wound healing and certain types of infections. Surgery can be safely performed but requires a coordinated effort from patients, surgeons, and medical doctors to attain outstanding results. There are some instances where your Restore SD surgeon may want to postpone surgery until your diabetes is under better control.
How soon can I travel after having liposuction?
Having surgery means a commitment to an appropriate recovery. We recommend scheduling your surgery at a time that allows enough time to recover and gradually return to your normal activities. Flying, driving long distances, or leaving the immediate area are not recommended until you have been cleared by your surgeon. If you have specific travel needs or require advice for emergency travel soon after a procedure, please let us know and we will be glad to discuss the details with you.
How much weight will I lose after liposuction?
Liposuction is a body contouring operation and is not designed as a weight loss procedure. Taking off excess fat can lighten the number on the scale, but that is generally a modest 1-3 pounds. The best results are seen when you have surgery at a healthy weight and are already committed to a healthy diet and a regular exercise program.