Non surgical techniques such as fillers and neuromodulators (including BOTOX® Cosmetic and Dysport®) are seeing a surge in use by men. According to the most recent survey by the Aesthetic Society, men had over 450,000 neuromodulator treatments in 2016 – a 72% increase over the last 5 years. The signs of aging are associated with volume loss, skin laxity and wrinkles. Although BOTOX® Cosmetic will temporarily smooth lines in your face, fillers such as JUVÉDERM® and Restylane® can restore volume, especially around the jawline or temples. Skin treatments including microneedling and laser rejuvenation can improve skin texture and reduce sun damage.
Surgical procedures such as blepharoplasty (eyelid lift), brow lift, and facelift can dramatically improve the signs of facial aging. Removing excess eyelid skin, raising a heavy brow to its normal level at the brow ridge and reducing laxity and extra skin in the neck and face are effective means to address the signs of an aging face.
---
The Best Candidates
Have excess skin in the neck and jowls
Have a loss of volume in the temples or jawline
Wish to reflect inner confidence and a younger self
Are healthy and not taking blood-thinning medications
Have a heavy brow that makes you appear angry or sad
Have a permanent scowl or prominent creases in their forehead or around the eyes
---
The Options
BOTOX® Cosmetic and Dysport® are well-researched, safe, and effective treatments for fine lines and wrinkles of the face. They may not be the right choice for every line and wrinkle – fillers, fat grafting, or laser skin tightening may be the primary solution for your facial rejuvenation concerns. These other non-surgical procedures, in addition to skin care, can provide a complementary effect. Your Restore SD surgeon will thoroughly evaluate your areas of concern and partner with you to develop a comprehensive facial rejuvenation plan that may include BOTOX® Cosmetic, skin care, laser, and filler.
Surgical options such as blepharoplasty have become more popular among men, who now represent 1 in 10 patients seeking cosmetic surgery. Blepharoplasty can be done in the office or combined with other surgical procedures in an outpatient operating room setting. Although brow lift and face/neck lifts are more serious surgical procedures with associated recovery time, in the right male patient, this may best meet your needs. Dr. Gallus will consult with you to create a tailored plan that addresses your goals for treatment.
The Procedure
On the day of your consultation, Dr. Gallus will review your facial anatomy, your concerns, and goals for treatment to create a tailored approach to your facial rejuvenation plan. For non-invasive procedures, we can treat that day in the office. Once we have determined the areas to be treated and the amount of BOTOX® Cosmetic or filler to use, we will apply a gentle cleanser and an antiseptic to the areas of injection. Ice packs can be applied before and after treatment to make the process as comfortable as possible. Your provider will then inject the neuromodulator or filler with a very small needle. Shortly after, you can go about your day. It typically takes 3 -10 days before effects are seen of neuromodulators, while fillers offer an instant result.
Surgical procedures, with the occasional exception of blepharoplasty, are performed under general anesthesia in an accredited ambulatory surgery center or hospital setting. Each procedure addresses a different anatomic area of the face and will be reviewed in detail, as well as expected recovery and return to activity, at your initial consultation.
Facial Rejuvenation Recovery
Pain from the injectable treatments are minimal and aside from an occasional small amount of bruising, return to daily activities is immediate. Most patients return at one week for a re-assessment after their first session to evaluate the effectiveness of the treatment plan. Once you have an established plan with Restore SD Plastic Surgery, regular follow-ups for additional treatments can be scheduled every 4 to 6 months as part of a maintenance plan. Remember that it takes 3-10 days to see the effects of BOTOX® Cosmetic. You should allow yourself enough time for the treatment to take effect and any subtle bruising to subside.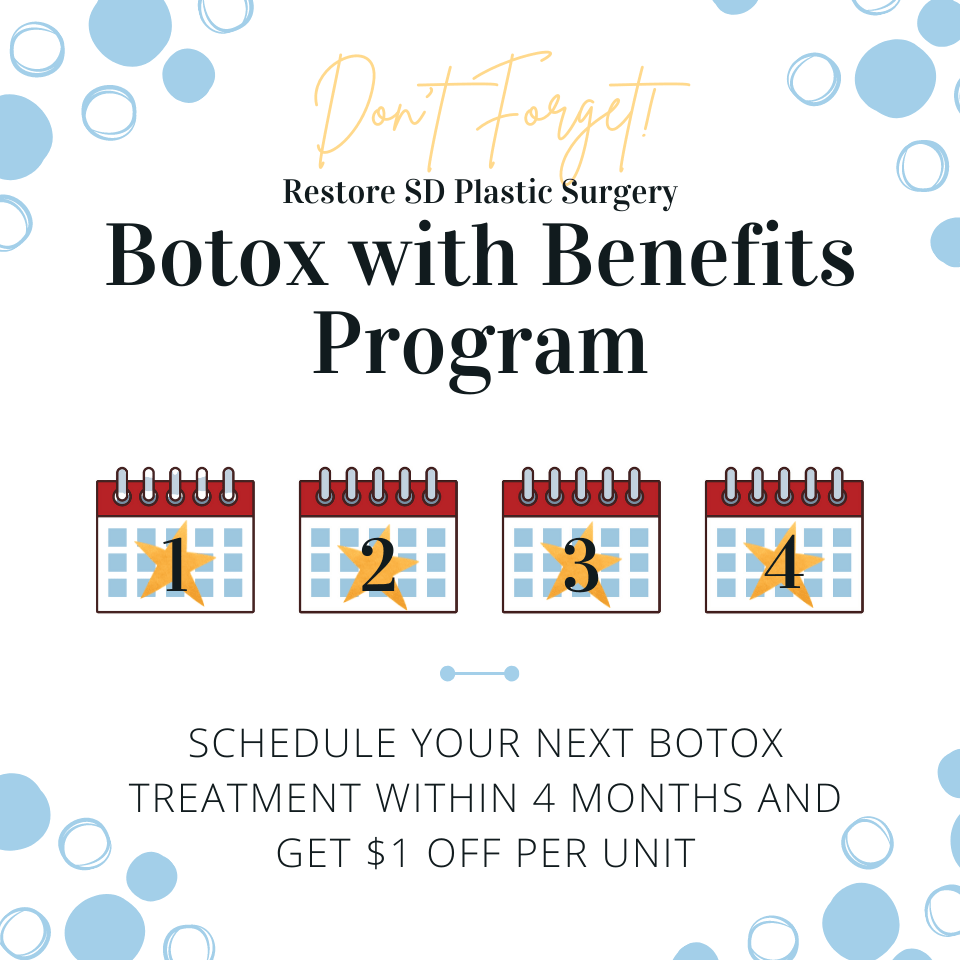 For surgical procedures, once you have recovered from the anesthesia you can return home. You should arrange to have a responsible adult drive you home and stay with you for the next one to two days. Some surgical pain is expected and treated with pain medications. Depending on the procedure and technique, you may have stitches or staples at the incision sites. Your Restore SD surgeon will see you frequently after surgery and determine the optimal timing for suture or staple removal. You will use antibiotic ointment over the incision sites until they are fully healed. Most patients can return to work after 1- 2 weeks. Normal daily activities such as showering, eating and light activity such as walking can be resumed within 24 hours after surgery. Some post-operative swelling is normal and resolves in the first 4 weeks in the typical patient. You should refrain from intense physical activity for 4 weeks. During the recovery period, you will have a follow-up with your Restore SD provider and will be guided back to your usual activities. Most complications occur from getting too active too early, so select a surgical date that allows an appropriate amount of time to heal and gradually return to your more vigorous activities.
The Combined Facial Rejuvenation Procedures
Facial rejuvenation procedures are often combined to restore youth and vitality to your appearance. Additionally, skin care (sunscreen!) is an essential foundation for every facial rejuvenation program. Your Restore SD team will make individualized recommendations to ensure you have a facial rejuvenation plan that meets your needs and ensures a natural and refreshed appearance.
---
Facial Rejuvenation FAQs