Am I a Candidate for Prominent Ear Surgery (Otoplasty)?
Have prominent ears that protrude further than normal dimensions
Are self conscious about how your ears look or are teased by others
Are motivated to improve your ear appearance through surgical intervention
Are able to refrain from vigorous contact sports for 6-8 weeks after surgery
Are a healthy non-smoker and not taking any blood thinner medications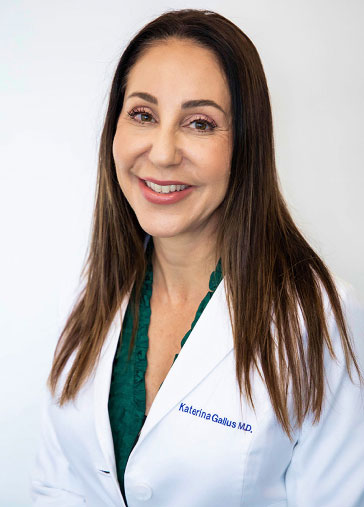 Dr. Katerina Gallus
Dr. Gallus has over 20 years of experience and is a fully credentialed, board certified plastic surgeon. She will partner with you to develop a tailored surgical plan that prioritizes your safety and results.
Prominent Ear Surgery Options
Prominent ears are quite common and can be due to lack of a natural fold of the upper ear or an excess of cartilage at the base of the ear – or a combination of both factors. Your Restore SD surgeon will perform a thorough examination and discuss a comprehensive surgical plan that addresses your individual goals. In some cases, only the upper ear fold needs to be created while in others, only the cartilage reduction at the base of the ear needs to be done. Sometimes both areas need to be addressed surgically.
Prominent Ear Surgery Procedure
Prominent ears are corrected under general anesthesia in a hospital or accredited ambulatory surgery center. The surgery generally takes about 2 to 3 hours and is an outpatient procedure. Incisions are made behind the ear and corrective sutures are placed to create an upper ear fold. If the base of the ear is involved, a small amount of cartilage may be removed to allow the ear to rotate back into a less prominent position. Sutures are then placed to hold the ear in the correct position. Absorbable sutures are then placed to close the skin and a compression dressing is placed.
How Long Does Recovery from Prominent Ear Surgery Take?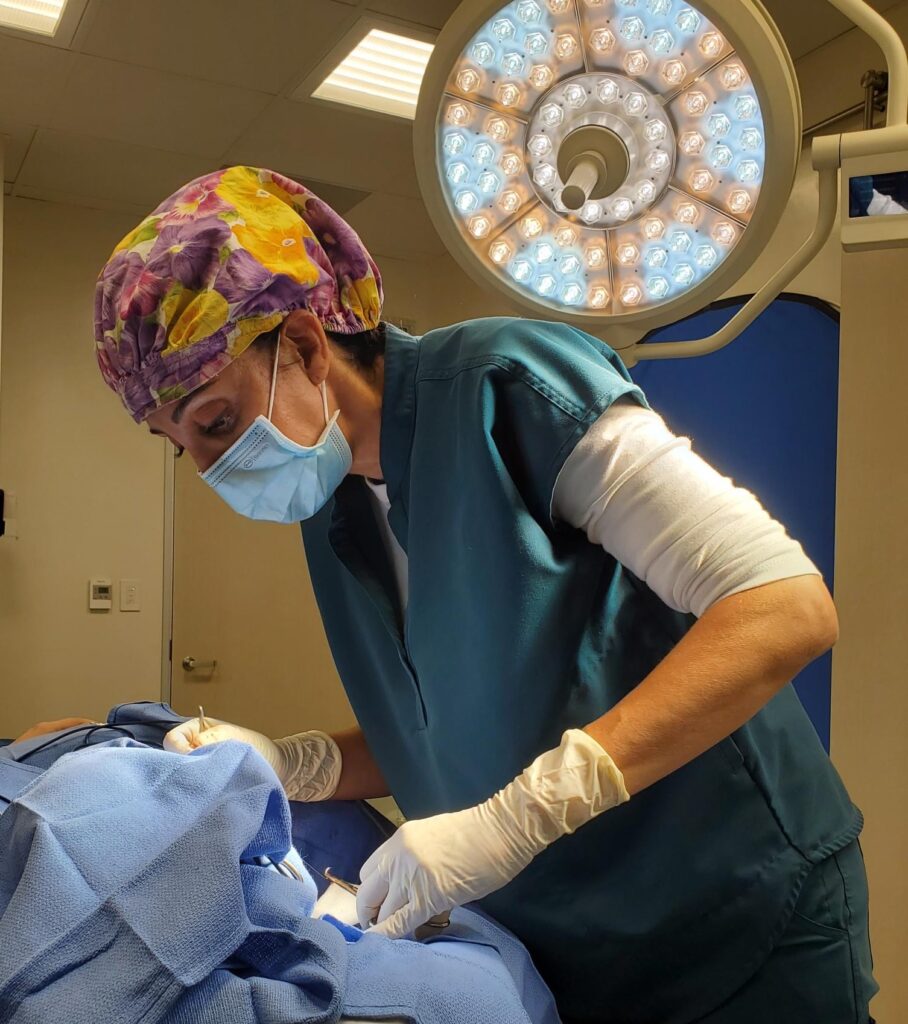 After you recover from anesthesia you will be able to go home with a responsible adult. Ideally this loved-one or friend can stay with you for a day or two after surgery and drive you to your early follow up appointments. You will have a dressing that will be removed by the Restore SD team when you return for follow up within 24-48 hours. Some surgical pain is expected and you will be prescribed pain medication to help keep you comfortable during the recovery process. You will need to wear a headband for a few weeks after surgery to keep the ears in correct position during healing. Some of our patients have gotten very creative with their headwear!
Normal daily activities like showering, eating and light activity such as walking can be resumed within 24 hours after surgery. Some post-operative swelling is normal and generally resolves within the first 6 weeks after surgery. You should refrain from intense physical activity for 6-8 weeks and contact sports are not allowed during the healing process. During the recovery period, you will have follow-up with your Restore SD surgeon and will be guided back to your usual activities. Most complications occur from getting too active too early, so select a surgical date that allows an appropriate amount of time to heal and gradually return to your more vigorous activities.
Combined Procedures for Prominent Ear Surgery
Correction of prominent ears is generally performed as a stand-alone procedure but can be safely combined with breast surgery, some body contouring procedures, facial rejuvenation procedures, and even liposuction. Your Restore SD surgeon will listen closely to your goals and partner with you to develop an individualized surgical plan that optimizes your results and safety.
"Dr. Gallus and her team at restore are incredibly professional and caring. They make you feel comfortable from the first time you set foot in their beautiful office. My results from my procedure were exactly what I expected. I believe having a woman plastic surgeon like Dr. Gallus is key to getting the results you want. If you are looking for a great surgeon, I highly recommend Dr. Gallus. Thank you Restore!"
—Actual patient of Dr. Gallus
---
Carpools & Cannulas: Modern Motherhood and Plastic Surgery – Listen Up! Ear Surgery 101
---
Prominent Ear Surgery FAQs
What happens at my prominent ear consultation?
When you come to Restore SD Plastic Surgery to discuss pinning of prominent ears, your Restore SD surgeon will perform a detailed facial examination as well as review your medical history and any medications you are taking. At your consultation, you will have photos taken with our Vectra 3D imaging system and discuss treatment areas and options while viewing your photos series. With our state-of-the-art Canfield software, potential surgical results can be viewed and adjustments can be made, helping you to visualize possible outcomes.
Why should I choose Restore SD Plastic Surgery for treatment of my prominent ears?
The surgeons at Restore SD Plastic Surgery have over a decade of experience with cosmetic and reconstructive surgery. In addition to being fully credentialed, we take the time to listen to your goals and partner with you to develop the best and safest surgical plan that will optimize your results and leave you looking and feeling your best.
How do I choose a surgeon for prominent ear surgery?
It is important to ask if your surgeon is Board Certified by the American Board of Plastic Surgery. As a board-certified plastic surgeon at Restore SD, Dr. Katerina Gallus has years of training and expertise in prominent ear surgery that cannot be imitated by short courses and alternative certifications. Ensure that your surgeon is proficient in facial surgery and treatment of prominent ears in particular. The American Board of Plastic Surgery is one of 23 members of the American Board of Medical Specialties. These specialties represent the traditional core of fully trained specialists. Alternative boards have cropped up over the last several years to lend legitimacy to incompletely trained or poorly trained practitioners. Accept nothing less than a surgeon certified by the American Board of Plastic Surgery who preferably is a member of the American Society of Plastic Surgeons (ASPS) and American Society for Aesthetic Plastic Surgery (ASAPS).
How long do the results of prominent ear surgery last?
Once healing is complete, your new ear position should be permanent. Occasionally, your ear position might change over time and a little touch-up surgery can restore your optimal appearance. Following the postoperative instructions to the letter and avoiding contact sports for 6-8 weeks after surgery will give you the best chance to achieve the permanent change you expect.
How much time off work should I take after prominent ear surgery?
Depending on your profession, you should expect to take 1-2 weeks off from work or school. You will not be able to drive while taking narcotic pain medication. You will need a ride home after having general anesthesia and have a friend or family member stay with you for the first night and a day or two if possible.
How do I minimize post-operative scarring after prominent ear surgery?
Unfortunately, scarless surgery does not yet exist. However, the scar from otoplasty is well hidden behind your ear. Your Restore SD surgeons will educate you about scar management postoperatively. A surgical scar will take 9-12 months to fully mature. Your scar will go through changes during the healing process and your Restore SD team will help you manage this part of your recovery. This can consist of sun avoidance, scar massage, scar cream, and fractionated laser treatments.
What should I do to prepare for prominent ear surgery?
If you have close friends or relatives who have had prominent ear surgery – start there! A personal story of their journey may guide you to questions to ask your surgeon and having someone with a shared experience is invaluable. Educate yourself by reading our procedure page and viewing our educational videos. Other sources of information include RealSelf and WebMd. Remember to wear a button down front opening shirt on the day of surgery so that your post-operative experience does not include wrestling a shirt over your head!
I am a smoker – can I have prominent ear surgery?
At Restore SD Plastic surgery, we pride ourselves in delivering safe, consistent, and reproducible results. Smoking tobacco or using any nicotine products has adverse effects on wound healing. Your risk of tissue loss, infection, and prolonged incision healing are much higher if you use nicotine. We recommend a nicotine-free period of 8 weeks prior to surgery and a minimum of 4 weeks post-operatively. We have a simple urinary nicotine test that we complete in the office to help you on your journey to a safe and gratifying surgical experience with us.
I have Diabetes – what do I need to know about prominent ear surgery?
If you have diabetes it is important to work with your medical team to maintain an ideal HbA1C. Diabetes can increase your risk for prolonged wound healing and certain types of infections. Surgery can be safely performed but requires a coordinated effort from patients, surgeons, and medical doctors to attain outstanding results. There are some instances where your Restore SD surgeon may want to postpone surgery until your diabetes is under better control.
How soon can I travel after having prominent ear surgery?
Having surgery means a commitment to an appropriate recovery. We recommend scheduling your surgery at a time that allows enough time to recover and gradually return to your normal activities. Flying, driving long distances, or leaving the immediate area are not recommended until you have been cleared by your surgeon. If you have specific travel needs or require advice for emergency travel soon after a procedure, please let us know and we will be glad to discuss the details with you.
---
Choose female plastic surgeon Dr. Katerina Gallus for your prominent ear surgery in San Diego
Katerina Gallus, MD is a female cosmetic plastic surgeon who is board certified by The American Board of Plastic Surgery (ABPS). With over 15 years of experience as a plastic and reconstructive surgeon, Dr. Gallus has the skills and expertise to develop a safe surgical plan that achieves your desired results. To schedule your consultation, call 858-224-2281 or contact us online.
Your Safety = Beautiful Results

Prominent Ear Surgery (Otoplasty) at Restore SD

At Restore SD Plastic Surgery, we maintain the highest level of clinical competence and integrity—this means we always place patient safety first. As a board-certified plastic surgeon and former Navy plastic surgeon, Dr. Katerina Gallus only operates at fully accredited, private outpatient surgical facilities located within minutes of our office. She also holds hospital privileges at Scripps Memorial Hospital La Jolla.