What is IPL?
IPL, or intense pulsed light, is an advanced treatment that uses the restorative benefits of light waves to diminish skin concerns for a replenished look. Also known as a photofacial, it is a non-invasive and highly effective solution for promoting the look and overall health of your skin with minimal recovery time. Sun exposure and natural aging can take a toll on our skin. IPL laser treatments are an effective solution for targeting pigments and redness to stimulate skin regeneration.
What Can the Spectrum Laser/IPLTreat?
The versatile Spectrum can perform a wide range of aesthetic treatments, including:
Skin resurfacing – Photofacials with our IPL removes the outermost damaged layers of skin, allowing new, healthier skin cells to take their place. This treatment can address common concerns such as dark spots, fine lines, and rough textured skin.
Pigmented lesion removal – Intense pulsed light (IPL) therapy is often seen as the gold standard for the treatment of pigmented lesions such as sunspots. The light energy is absorbed by concentrated areas of melanin, which are then broken down by the body over time
Acne treatment – IPL therapy can be used to eradicate the acne-causing bacteria and reduce the redness that comes with acne inflammation
Hair removal – Unwanted hair, while troublesome, can, fortunately, be removed from almost any area of the body. The Spectrum Laser uses an 810nm diode laser to remove and permanently reduce body hair. The laser can be adjusted to allow for both small and large areas to be treated fast and effectively on all skin types.
Tattoo removal – Thanks to advances in medical technology, tattoos aren't as permanent as they used to be. If you're experiencing regret over one or more tattoos, the Spectrum Q-switched laser can help you get rid of them for good. Laser tattoo removal works by targeting the pigment within the ink of your tattoos, allowing them to be broken down and absorbed by the body.
If you are interested in learning about more about possible treatment areas with the Spectrum, we will be more than happy to give you a summary of services upon your first visit to our board-certified plastic surgeons.
"I have been going to Dr. Gallus since 2019 for treatments including Botox, fillers, IPL, and microneedling with radio frequency. My results since switching to Dr. Gallus have been better than my previous aesthetic doctor. I look much more natural and have very little, if any bruising after injectables. Also, I love the office staff! It's a very down to earth, relaxed and fun atmosphere."
—Actual patient of Dr. Gallus
Am I a Good Candidate for Spectrum IPL?
Candidacy will depend on the exact treatment you are looking to undergo and your skin type. Treatments take place in office with either cryocooling or numbing cream applied for comfort. Most treatments last about 30 minutes with results that are noticeable following each session. Your skin may be red and warm after treatment for 1-3 days and areas of pigmentation may flake more than the surrounding skin. Depending on the current condition of your skin, a series of 3-5 treatments are suggested for optimal results. We recommend avoiding sun exposure immediately before and after treatments for the best healing.
---
---
Learn More About Spectrum Laser IPL at Restore SD
Most anyone who is experiencing damaged or dull skin could benefit from IPL treatments. If you are unsatisfied by the tone and texture of your skin, you could benefit from a series of photofacials customized to your skin concerns. The best way to determine if you are a proper candidate is through a consultation with our female board certified plastic surgeon, Dr. Katerina Gallus.
At Restore SD Plastic Surgery, we are proud to serve San Diego and the surrounding area with aesthetic services catered directly to your needs. If you're ready to find out how the Spectrum Laser/IPL System can help you, book your first appointment online or call us at (858) 224-2281 today.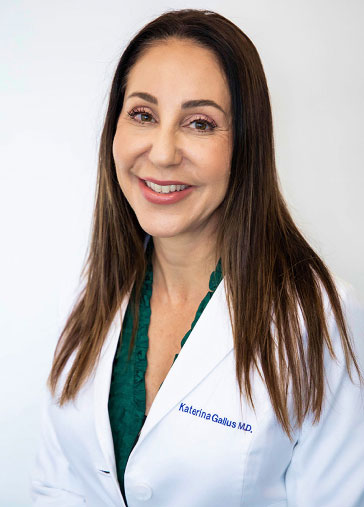 Dr. Katerina Gallus
Dr. Gallus has over 20 years of experience and is a fully credentialed, board certified plastic surgeon. She will partner with you to develop a tailored surgical plan that prioritizes your safety and results.