What is liposuction?
Liposuction (aka "lipo") removes excess fat deposits and improves your body contours and proportion to slim and reshape specific areas of the body.
What is liposuction?
San Diego liposuction options
San Diego liposuction options
Several liposuction techniques are common and available in the modern performance of liposuction surgery. At Restore SD Plastic Surgery we combine professional expertise, scientifically proven equipment, and established techniques to achieve your best lipo result.
The SAFELipo techinque
We utilize the SAFELipo™ technique to safely and consistently offer optimal results. This lipo technique is a means of Separation, Aspiration, and Fat Equalization to create a smooth contour and facilitate maximum skin tightening while avoiding tissue injury or contour irregularities. SAFELipo offers the best, safest and most consistent results.
Liposuction is ideal for patients with localized fat deposits that are located in specific areas and associated with minimal overlying skin laxity. Excess fat can create an unbalanced contour and liposuction directly removes this fat with minimal downtime and in a single treatment.
Dr. Gallus will tailor an optimal surgical solution for your specific liposuction needs. As always, our goal is to deliver the highest quality surgical result in a manner that individualizes treatment and accounts for the subtle nuances of ideal form.
Liposuction vs. non-invasive fat reduction techniques
We don't believe in gimmicks and we are conscious of the potential risks of using heat-generating techniques such as laser, radiofrequency or ultrasound-assisted liposuction. These techniques rely on heat to augment the process but lead to thermal tissue damage and inflammation. We know that "smart" liposuction is defined by an experienced, board-certified plastic surgeon performing the operation and not the equipment.
Although many options exist for treating stubborn fat deposits, liposuction remains the gold standard. Non-invasive techniques have their place in the spectrum of potential treatments but don't physically remove the fat cells. Non-invasive results take time and often require multiple treatments.
Who should get liposuction?
You are a candidate for liposuction if you:
Have good skin tone without excess loose skin
Are not using liposuction as a weight loss procedure
Are healthy and not taking any blood thinner medications
Have localized areas of excess fat amenable to liposuction
Are motivated to improve your appearance through liposuction
Are at a stable weight and leading a healthy lifestyle
What areas can liposuction treat?
Liposuction can treat the following areas of the body by removing excess fat deposits and improving your body contours and proportion:
Mid and upper back
Bra fat
Abdomen
Waist
Hips
Upper arms
Buttocks
Cheeks
Chin and neck
Hips
Knees
Thighs
What cosmetic procedures can be combined with liposuction?
Liposuction can be combined with other plastic surgery procedures, such as facelift, breast reduction, labiaplasty, or a tummy tuck.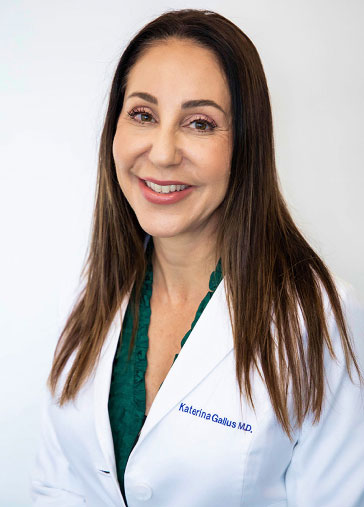 Dr. Katerina Gallus
Dr. Gallus has over 20 years of experience and is a fully credentialed, board certified plastic surgeon. She will partner with you to develop a tailored surgical plan that prioritizes your safety and results.
Liposuction surgery with the SAFELipo technique
Liposuction is most often performed under general anesthesia as a stand-alone procedure or combined with other surgeries. Liposuction surgery can take as little time as 30 minutes or last up to 3 hours depending on the areas treated.
What are the steps of a SAFELipo procedure?
This technique is a means of separation, aspiration, and fat equalization to create a smooth contour and facilitate maximum skin tightening while avoiding tissue injury or contour irregularities.
1) Dr. Gallus will make one or more very small incisions in the region to be treated.
2) The next step is to infuse a saline-based solution containing epinephrine and lidocaine to help reduce blood loss and minimize pain.
3) Once the solution has been allowed to set, the surgeon will then proceed with SAFELipo™.
SAFELipo™ utilizes power-assisted liposuction (PAL®) which decreases surgeon fatigue, improves surgical precision, and reduces tissue trauma. Dr. Gallus has been using the PAL® Liposuction system for over 10 years. She is proud to be the only San Diego board-certified plastic surgeon to take this common and effective technique to the next level – SAFELipo™.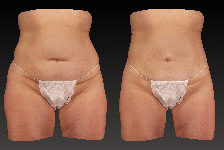 The PAL® system is used in all three stages of the SAFELipo™ technique.
1) In the first step, the fat is separated with special cannulas. This loosens the fat and makes the fat removal step more effective.
2) Next, Dr. Gallus will remove the fat with small cannulas using the PAL® system. With the PAL® system, fat removal is more safely and effectively accomplished and leads to reduced blood loss and tissue injury during this stage. Once the desired contour has been achieved Fat Equalization takes place. Again, a special cannula is inserted and the remaining fat is dispersed over the treatment area to ensure a smooth result.
3) Lastly, the small incisions will be closed with a dissolvable suture and you will be placed in a postoperative compression garment.
"I went in for a consultation for a tummy tuck, bbl, and lipo and was very impressed with Dr. Gallus and her staff. She made me feel very comfortable and answered any and every question I had (I had a lot lol). She truly made me feel like she cared about my safety and would do great work to achieve the results I wanted. She was very down to earth and relatable unlike other surgeons I've met with in prior consultations. I didn't feel pressured or out of place in her office what so ever which is important to me. I was left with zero questions or concerns. I was unable to move forward with booking a date right now due to personal reasons but plan to do so in the future! 10/10 recommend!"
—Jasmine R., actual patient of Dr. Gallus
The liposuction San Diego consultation
The Restore SD team is focused 100% on making you comfortable, even before you step foot in our office for your procedure! Knowing what to expect can take some of the anxiety out of sitting down with a plastic surgeon. Here's what happens during a typical consultation with Dr. Gallus:
When you arrive, we greet you and make sure that we have all of your intake information, including your complete medical history. We email these to you ahead of time so that you complete our digital forms at home' with your information at hand, before arriving.
Dr. Gallus reviews your medical history and any medications you take. Then, she sits down to talk with you face to face, though another clinical staff member is present throughout the physical exam to ensure your comfort. This is an open conversation, allowing you to express yourself and get Dr. Gallus' expert input on tailoring liposuction surgery to meet your goals.
We take digital images of your body using our Vectra 3D imaging system. This state-of-the-art camera and software visualizes possible outcomes, and we can adjust as we discuss your goals for your body—i.e. slimmer shape or curvier contour.
Finally, after working out the procedure(s) that could meet your goals, you meet with our stellar patient care coordinator to go over a comprehensive, personalized fee quote that covers San Diego breast reduction pricing.
If you're not ready to book a surgical date yet, you are welcome to return for a second consultation. In fact, we encourage this for you to be informed and empowered in your decision-making (and it's completely normal). Get the scoop on consults »
What should I expect during my liposuction surgery recovery?
After the liposuction surgery is completed you will be able to go home with a responsible adult who should ideally be able to stay with you during recovery.
Compression garments. You will be fitted with a compression garment to support your new and improved contour. This should be worn under your regular clothes for the next 4 weeks to minimize swelling.
Bruising and swelling. Although there may be some bruising and swelling immediately after surgery, your newly improved shape will become apparent soon after the surgery.
Post-surgery care. Most patients are sore after surgery but do not experience a significant amount of pain. Pain medication and antibiotics will be prescribed for the first week following surgery.
Returning to physical activity. While you will be able to shower the next day, you should refrain from intense physical activity for 4 weeks. Most complications occur from getting too active too early, so be sure to select a surgical date that allows an appropriate amount of time to heal and gradually return to your more vigorous activities. Use our recovery calculator to help plan your timeline.
Follow-up care. During the recovery period, you will have follow-ups with Dr. Gallus and will be guided back to your usual activities.
Your figure will continue to improve over the next 3 months. Your recovery will vary depending on the amount of fat reduction and the number of areas treated. The positive benefits of liposuction can be undone with weight gain – lasting results are enhanced by a continued commitment to healthy living. Happily, most lipo patients are motivated by their new and improved appearance to continue to maintain their new physique.
Liposuction results
Liposuction results are immediately noticeable and improve as swelling decreases. It's important to maintain a healthy lifestyle after liposuction surgery.
View liposuction before & after photos »
Your Safety = Beautiful Liposuction Results

Liposuction San Diego at Restore SD

At Restore SD Plastic Surgery, we maintain the highest level of clinical competence and integrity—this means we always place patient safety first. As a board-certified plastic surgeon and former Navy plastic surgeon, Dr. Katerina Gallus only operates at fully accredited, private outpatient surgical facilities located within minutes of our office. She also holds hospital privileges at Scripps Memorial Hospital La Jolla.
---
Liposuction blog posts from Dr. Gallus