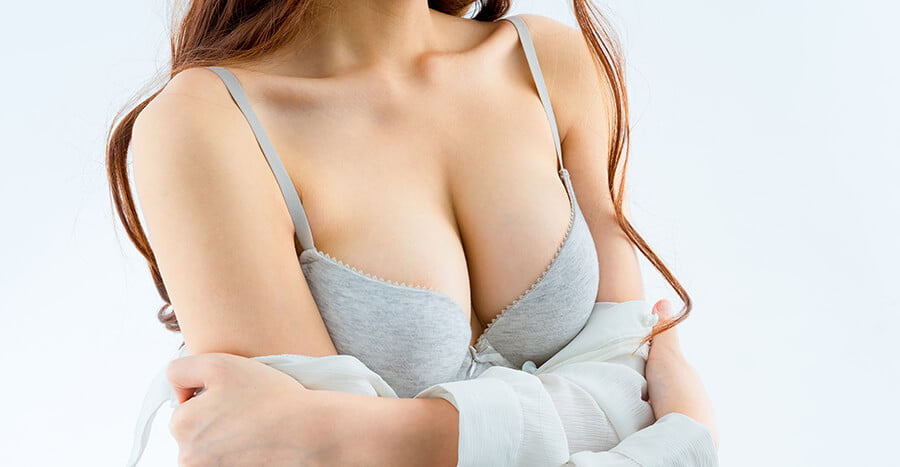 Nearly a million women suffer from symptoms caused by large breasts. Most people define large breasts as larger than DD. Bra sizes can be fitted and range to size K – many women with larger breasts deal with the discomfort of forcing themselves into smaller bras that are more readily available.
What causes large breasts?
Some women are naturally well endowed while others experience increasing breast size over time with breastfeeding, pregnancy, or weight gain.
What problems are caused by large breasts?
Large breast size is known to cause physical discomfort of the neck, back, and shoulders as well as leave bra strap grooves on the shoulders and contribute to rashes under the breasts. Excessively large breast size also has an emotional component. Many women who have breasts that are disproportionately large are self-conscious or have low self-esteem and frequently try to disguise their breast size by wearing loose or baggy clothing and may even avoid certain social settings, participating in athletics, or intimate situations.
What are my surgical options for large breasts?
Breast reduction is one of the most frequently performed plastic surgery procedures each year and has one of the highest patient satisfaction ratings of any procedure being done today. The surgery is designed to remove heavy and redundant breast tissue, skin, and fat, while simultaneously lifting and reshaping the breast to provide a proportionate result. The nipples and areola are usually made smaller during surgery to match the new breast size and shape. There are several breast reduction techniques that include an incision around the nipple and areola and vertically down to the natural breast crease, and possibly along the breast crease. The best incision choice for each patient will depend on the starting size of the breast as well as the degree of sagging and the final desired size. Very often, breast reduction surgery alleviates neck, back, and shoulder discomfort that is associated with large breast size. It is very common for us to hear in the office – "I can't believe that I didn't do this years ago!"
Will insurance cover breast reduction surgery?
Insurance often covers breast reduction surgery, if you meet the criteria specific to your insurance plan. There are some barriers introduced by the insurance companies, to include the amount of breast tissue that is removed. We recommend that you check your policy concerning breast reduction coverage to be informed of what is a covered benefit and what is considered cosmetic.
Visit Dr. Katerina Gallus for a breast reduction consultation
As you consider options to reduce your breast size, doing your homework and educating yourself about the breast reduction options in San Diego as well as the choice of surgeons is essential. At Restore SD Plastic Surgery, female board certified plastic surgeon Dr. Katerina Gallus partners with you to customize a treatment plan that is individualized to your body, aesthetic goals, and timeline. You may call 858-224-2281 or contact us online to book your breast reduction consultation today.