The Best Breast Lift Candidates
Are not taking blood thinner medications or using nicotine products
Are not pregnant, breastfeeding or planning to have children in the immediate future
Have nipples below the lower crease of the breast or pointing downwards
Have breast ptosis (sagging) but are happy with breast size
Are healthy and a stable weight
If you are over 40 years old or have a strong family history of breast cancer, Dr. Gallus will recommend a mammogram before surgery.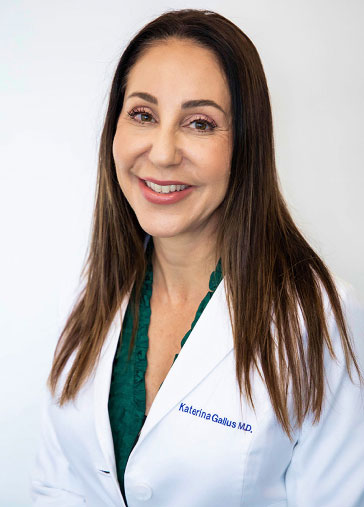 Dr. Katerina Gallus
Dr. Gallus has over 20 years of experience and is a fully credentialed, board certified plastic surgeon. She will partner with you to develop a tailored surgical plan that prioritizes your safety and results.
Breast Lift Options
Breast lift surgery can be performed in several ways. The most common techniques offer a safe and reliable method of lifting the breast that is tailored to your body and your desired results.
Anchor Incision Breast Lift:
The most frequent technique employed by Restore SD surgeons is the anchor-type incision. The anchor pattern includes an incision around the areola that extends vertically down and connects to a horizontal incision that is hidden in the lower breast crease. Using the anchor pattern allows for maximal skin removal and powerful reshaping of the breast.
Vertical Breast Lift:
Another common technique is the vertical breast lift. This is also sometimes referred to as a short-scar or limited-scar breast lift. This surgery limits the incisions to a "lollipop" type incision. The incision extends around the areola and vertically down to the lower breast crease. It does not include the horizontal lower breast crease incision. This technique is best for women who have minimal skin excess but still require a lifting of the nipple and areola.
Circumareolar Breast Lift:
A circumareolar incision is a type of lift that is performed via an incision that is limited to the area around your areola. This limited incision is used when repositioning the nipple areola complex only 1 -2 cm. This is often done in circumstances where symmetry (matching the opposite breast) is desired or in combination with other breast enhancement surgeries. This technique can also be used to reduce the size of large areolae to a size that won't be revealed in bathing suits or bras.
"I have never felt so much support and love from a plastic surgeon office (I have been to a few.)…I am so happy with my results and will always refer Dr. Gallus and her team to everyone I know. She changed my life and I will be forever grateful!!!"
——A. E., actual patient of Dr. Gallus
Breast Lift Surgery
Breast lift surgery is performed under general anesthesia to offer maximum comfort and safety. We perform all surgeries at an accredited outpatient surgery center or hospital. The surgery usually takes 2 – 3 hours depending on your starting breast size and individual surgical plan. Dr. Gallus will carefully mark planned incisions to properly reposition your nipple and areola and review the final plan with you to ensure there are no last-minute questions. After anesthesia is administered, your surgeon will make incisions and remove the excess breast skin while carefully preserving the blood supply to the nipple and areola. Once the excess skin is removed, the breast tissue is reshaped to a more youthful contour and the nipple-areolar complex is repositioned. Liposuction may be used to improve the shape of your new breasts or remove extra tissue on the side of your chest. In some cases, a drain is placed. The incisions are then closed using absorbable sutures. There will be no external sutures to remove later. Surgical dressings are applied and you will be placed in a post-surgical compression bra. You will need to wear this bra or a similar front-opening sports bra for the next few weeks.
View breast lift before & after photos »
Breast Lift Recovery
After breast lift surgery is completed you will be able to go home with a responsible adult. Ideally, this loved one or friend will be able to stay with you during the first few days of recovery. Some surgical pain is expected and treated with pain medications. Initially, the area around the nipple and most of the breast skin is numb but sensation returns over the next few months. Most women can return to work after 1 – 2 weeks. Normal daily activities like showering, eating, and light activity such as walking can be resumed within 24 hours after surgery. Some post-operative swelling is normal and generally resolves within the first 4-6 weeks after surgery. You should refrain from intense physical activity for 4 weeks. During the recovery period, you will have follow-ups with your Restore SD surgeon and will be guided back to your usual activities. Most complications occur from getting too active too early, so select a surgical date that allows an appropriate amount of time to heal and gradually return to your more vigorous activities.
Commonly Combined Procedures
Breast lift surgery can be combined with other breast enhancement techniques. It is most often combined with breast augmentation in patients who desire fuller breasts in addition to lifted breasts. Breast lift surgery can also be safely combined with other body contouring procedures such as abdominoplasty (tummy tuck) or liposuction in what is commonly referred to as Mommy Makeover surgery.
What happens at my breast lift consultation?
When you arrive at Restore SD Plastic Surgery to discuss a Breast Lift (mastopexy), Dr. Gallus will perform a detailed examination as well as review your medical history and any medications you are taking. If you are over 40 years of age or have a strong family history of breast cancer a recent mammogram will be requested. At your consultation, you will have photos taken with our Vectra 3D imaging system and discuss treatment areas and options while viewing your photos series. With our state-of-the-art Canfield software, potential surgical results can be viewed and adjustments can be made, helping you to visualize possible outcomes.
Why should I choose Restore SD Plastic Surgery for my breast lift?
Dr. Gallus has over a decade of experience with cosmetic and reconstructive surgery. In addition to being fully credentialed, she takes the time to listen to your goals and partner with you to develop the best and safest surgical plan that will optimize your results and leave you looking and feeling your best.
What is the difference between breast reduction and breast lift?
Both procedures will lift and restore a youthful contour to the breasts, but in breast reduction, the size of your breasts is also significantly reduced. Breast reduction is usually performed to help alleviate upper back and neck pain and is often considered a therapeutic procedure, i.e. covered by insurance. Each insurance provider has different requirements that define whether your procedure is covered as a breast reduction. Dr. Gallus will work with you to determine if your procedure is able to be covered under your insurance plan. Breast lift surgery does not significantly decrease the size of your breasts and is considered a cosmetic procedure.
How do I choose a surgeon?
Ask if your surgeon is Board Certified by the American Board of Plastic Surgery. As a female Board Certified plastic surgeon, Dr. Katerina Gallus has years of training and expertise in breast surgery that cannot be imitated by short courses and alternative certifications. Ensure that your surgeon is proficient in breast surgery and breast lift surgery in particular. The American Board of Plastic Surgery is one of 23 members of the American Board of Medical Specialties. These specialties represent the traditional core of fully trained specialists. Alternative boards have cropped up over the last several years to lend legitimacy to incompletely trained or poorly trained practitioners. Accept nothing less than a surgeon certified by the American Board of Plastic Surgery who preferably is a member of the American Society of Plastic Surgeons (ASPS) and American Society for Aesthetic Plastic Surgery (ASAPS).
Your Safety = Beautiful Results

Breast Lift San Diego at Restore SD

At Restore SD Plastic Surgery, we maintain the highest level of clinical competence and integrity—this means we always place patient safety first. As a board-certified plastic surgeon and former Navy plastic surgeon, Dr. Katerina Gallus only operates at fully accredited, private outpatient surgical facilities located within minutes of our office. She also holds hospital privileges at Scripps Memorial Hospital La Jolla.
Can I get a breast lift if I have implants?
Yes! Breast lift surgery is a common breast enhancement procedure performed in conjunction with breast augmentation or sometimes long after having had implants placed. Depending on your skin elasticity and the size of your breast implants, you may find that the weight of the implants causes your breasts to sag more quickly. In many cases the implant remain in an elevated position on the chest while the breast tissue droops below. In addition to a breast lift surgery, which will rebalance your breast tissues with the implants, some women choose to change the size of their implants. In women who are permanently removing their implants, breast lift surgery is a common procedure, as the implants can leave sagging deflated breasts after removal.
What happens if I get pregnant after a breast lift?
Pregnancy can significantly alter the shape and size of your breasts due to hormonal changes and weight changes. Your breasts may return to their pre-pregnancy lifted state following surgery or you may find yourself needing a second surgery to re-lift your breasts. Because of this unpredictability, we recommend postponing breast enhancement surgery if you have immediate plans to have children.
Can I breastfeed after a breast lift?
Depending on the type of procedure you have, the ability to breastfeed after breast lift surgery may be altered. However, most women are able to breastfeed after Breast Enhancement surgery.
How much can you lift the breast?
The breasts can be lifted in almost all circumstances, even in cases where the nipple and areola are pointing to the ground. This versatile procedure when performed with the expertise of skilled a surgeon such as Dr. Gallus, can dramatically improve the appearance of your breasts.
Will my breasts be smaller?
Depending on the amount of excess skin removed at the time of the lift, your breasts may appear and feel slightly smaller. If restoring volume to the upper half of your breast or increasing the size of your breast is a goal, a combination procedure with breast augmentation may be the ideal procedure for you.
Do I need to wear a bra after breast lift surgery?
In the immediate postoperative period, you will need to wear a light compression bra without underwire for support. Once you have fully recovered from surgery, wearing a bra is at your own discretion. Renewing your self-confidence and finding fun new clothing options will be the best part of recovery.
How long do the results of breast lift surgery last?
Your results should last for a long time unless you gain or lose a significant amount of weight or become pregnant. Over time, your lifted breasts will gradually succumb to the effects of gravity and aging, eventually changing the shape of your breasts.
How much time off work should I take after breast lift surgery?
Depending on your profession, you should expect to take 1-2 weeks off from work. You will not be able to drive while taking narcotic pain medication. You will need a ride home after having general anesthesia and have a friend or family member stay with you for the first night and a day or two if possible.
How do I minimize post-operative scarring after breast lift surgery?
Unfortunately, scarless surgery does not yet exist, but Dr. Gallus will educate you about scar management postoperatively. A surgical scar will take 9-12 months to fully mature. Your scar will go through changes during the healing process, and your Restore SD team will help you manage this part of your recovery. This can consist of sun avoidance (no topless beaches for 6-9 months!) scar massage, scar cream, and fractionated laser treatments.
What should I do to prepare for breast lift surgery?
If you have close friends or relatives who have had breast lift surgery – start there! A personal story of their journey may guide you to questions to ask your surgeon and having someone with a shared experience is invaluable. Educate yourself by reading our procedure page and viewing our educational videos. Remember to wear a button-down front-opening shirt on the day of surgery so that your post-operative experience does not include wrestling a shirt over your head!
I am a smoker – can I have breast lift surgery?
At Restore SD Plastic surgery, we want to deliver safe, consistent, and reproducible results. Smoking tobacco or using any nicotine products has adverse effects on wound healing. Your risk of nipple loss, infection, and prolonged incision healing are much higher if you use nicotine. We recommend a nicotine-free period of 8 weeks prior to surgery and a minimum of 4 weeks post-operatively. We have a simple urinary nicotine test that we complete in the office to help you on your journey to a safe and gratifying surgical experience with us.
I have Diabetes – what do I need to know about breast lift surgery?
If you have diabetes it is important to work with your medical team to maintain an ideal HbA1C. Diabetes can increase your risk for prolonged wound healing and certain types of infections. Surgery can be safely performed but requires a coordinated effort from patients, surgeons, and medical doctors to attain outstanding results. There are some instances where Dr. Gallus may want to postpone surgery until your diabetes is under better control.
How soon can I travel after having breast lift surgery?
Having surgery means a commitment to an appropriate recovery. We recommend scheduling your surgery at a time that allows enough time to recover and gradually return to your normal activities. Flying, driving long distances, or leaving the immediate area are not recommended until you have been cleared by your surgeon. If you have specific travel needs or require advice for emergency travel soon after a procedure, please let us know and we will be glad to discuss the details with you.
Call 858-224-2281 today to schedule your free consultation!