If you have physical discomfort and other frustrations due to excess weight in your breasts, we understand what you are going through. Back pain, bra strap grooving, chafing—the list goes on! San Diego plastic surgeon Dr. Katerina Gallus has over 20 years of experience helping patients reverse these symptoms, and our breast reduction patients are some of the happiest we see post-op.
What is breast reduction?
Breast reduction is performed to reduce breast size by removing excess tissues, as well as to provide an aesthetic improvement and better quality of life. During breast reductions, Dr. Gallus reshapes and lifts the breasts into perkier form and repositions the nipples higher on the chest to create a natural-looking result customized for you. This procedure may:
Reduce back and neck pain caused by heavy breasts
Minimize skin irritation below the breasts
Help with your posture
Create a more proportional size that feels comfortable and allows you to fit more easily in a variety of clothing tailored for women
Address asymmetrical breast size
(Learn about male breast reduction on our gynecomastia page.)
Who should get a reduction surgery?
Patients come to us for a breast reduction procedure at a range of life phases—during their college years, post-baby, or after they've become a grandparent—yet all of them are looking for more comfort, confidence, and freedom. You may want more freedom with fashion choices, crave a more active lifestyle, or hope to reduce soreness and pain in your neck, shoulders, and back. Here are some of the concerns women share with us:
You are self-conscious about your breast size
Your excessively large breasts are out of proportion with your body frame
You struggle to shop for clothes that fit and flatter you—and have never found the perfect supportive, comfortable bra
You have to wear more than one sports bra to exercise
You have a dent or "bra strap grooving" in your shoulders
You feel limited in your ability to play sports, dance, or practice yoga
You have rashes or skin irritation under your breasts
You have breast ptosis (drooping of the breast)
Whatever your reasons may be, if you are thinking about breast reduction, it's a great time to sit down with a board-certified plastic surgeon. Dr. Gallus will meet with you in a consultation and answer questions, explain different options like breast lift (where appropriate), and empower you with the information needed to decide: the options that are best for you, the results you can expect, and safety and risks.
Ideal patients for breast reduction
You need to be in good health before breast reduction—and you need to be ready to clear the calendar for surgical downtime! Chances are, now is a good time for you if you agree with the following statements:
You are in good health
You are at a stable weight that you plan to maintain*
You are an adult with fully developed breasts
You do not use any nicotine products
You do not take blood thinning medications
It's been at least 9 months since you were actively nursing or breastfeeding
You are prepared to take 1-2 weeks of downtime for the recovery
You are prepared to not lift anything heavy or participate in strenuous exercise for 6 weeks
Your BMI is less than approx. 30 (here is a free online BMI calculator)
Breast lift vs. breast reduction procedure
A breast lift is a cosmetic surgery to improve the appearance of the breast, but breast lift is not intended to relieve symptoms. By contrast, breast reduction procedures are often considered medically necessary to alleviate symptoms like neck, back, and shoulder pain—and it may be covered by your health plan. Otherwise, the techniques used in a breast lift are similar, but a breast lift does not remove excess fat or tissue.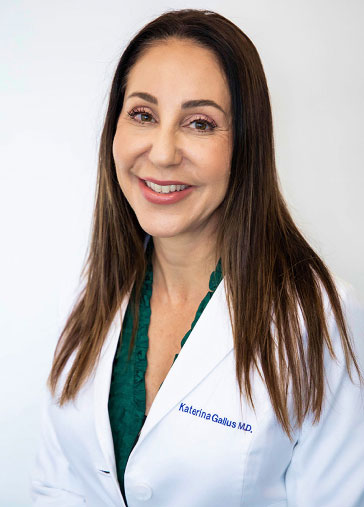 Dr. Katerina Gallus
Dr. Gallus has over 20 years of experience and is a fully credentialed, board certified plastic surgeon. She will partner with you to develop a tailored surgical plan that prioritizes your safety and results.
The breast reduction San Diego consultation
The Restore SD team is focused 100% on making you comfortable, even before you step foot in our office for your procedure! Knowing what to expect can take some of the anxiety out of sitting down with a plastic surgeon. Here's what happens during a typical consultation with Dr. Gallus:
When you arrive, we greet you and make sure that we have all of your intake information, including your complete medical history. We email these to you ahead of time so that you complete our digital forms at home' with your information at hand, before arriving. We will also request a recent mammogram if you are over 40 or have a family history of breast cancer.
Dr. Gallus reviews your medical history and any medications you take. Then, she sits down to talk with you face to face, though another clinical staff member is present throughout the physical exam to ensure your comfort. This is an open conversation, allowing you to express yourself and get Dr. Gallus' expert input on tailoring breast reduction surgery to meet your goals.
We take digital images of your breasts using our Vectra 3D imaging system. This state-of-the-art camera and software visualizes possible outcomes, and we can adjust as we discuss your goals for your body—i.e. amount of lift, nipple position, and degree of reduction.
Finally, after working out the procedure(s) that could meet your goals, you meet with our stellar patient care coordinator to go over a comprehensive, personalized fee quote that covers San Diego breast reduction pricing.
If you're not ready to book a surgical date yet, you are welcome to return for a second consultation. In fact, we encourage this for you to be informed and empowered in your decision-making (and it's completely normal). Get the scoop on consults »
What are my procedure options?
While there is no scarless surgery, as much as possible, incisions are hidden in the natural folds of the breast to minimize scars' appearance. (And scars are concealed by most bikini tops, so your beach look will easily be scarless!) Depending on the extent of your breast reduction surgery needs, Dr. Gallus may recommend a different incision pattern:
Anchor incision (inverted T) — The anchor pattern includes a line around the areola (the pigmented area around your nipple) that extends vertically down and connects to a horizontal line that is hidden in the lower breast crease. This pattern gives Dr. Gallus the ability to dramatically lift and reshape the breast, preserve fullness in the upper pole of your breast, and give you beautiful cleavage. If you desire a significant amount of tissue or skin removal, you will require this pattern to achieve your goals.
Lollipop incision — Also called the "short scar" or "vertical" breast reduction technique, lollipop incisions are placed around the areola with a sole line extending vertically down to the breast crease (there is no incision along the breast crease). If you have very little loose skin and need only a small reduction and lift, this incision pattern may work for you.
Liposuction — Through a very small incision, liposuction focuses solely on removing excess fat (without any lift) for breast reduction. If your breast size is due to fatty tissue (not fibrous breast tissue), liposuction may be a good choice for you. Liposuction is also a common add-on used to address "side boob," those pesky pockets of fat that bulge in certain tank tops or strapless clothes. This technique is virtually "scarless," as incisions are less than half an inch in diameter.
While most of these procedures require scars on the mound of the breast (unlike, for example, breast augmentation), know that scars fade with time and proper care. If you're worried about scars' appearance, rest assured that plastic surgeons now have fractionated laser treatments to help! Our laser used for skin resurfacing is also available to help with scars.
"Dr. Gallus is an amazing surgeon. I had a breast reduction done September 2021 and I can't say how amazing I feel and how glad I am to have gotten it done. Dr. Gallus takes her work seriously and the results show that. I recommend her 100%."
—Jasmine R., actual patient of Dr. Gallus
Will insurance cover breast reductions?
Many health plans consider covering breast reduction surgery if the breasts are causing upper back, neck, and shoulder pain or if you have rashes that need ongoing treatment. You should contact your coverage provider to learn if you would qualify before breast reduction surgery. These steps can take time and coordination with plastic surgeons, so planning may involve some extra days dealing with the necessary requirements. Note that all insurance companies have specific criteria for breast reduction, and they require a defined weight of tissue to be removed in order for the procedure to be covered.
Combined procedures
If you are planning a procedure, it's common to wonder if you can combine your breast reduction surgery with another that you have in mind. Liposuction, tummy tuck (abdominoplasty), upper arm lift, fat transfer to the buttocks (BBL), and labiaplasty are commonly requested with breast reduction surgery, and for most women, these can safely be performed in one anesthesia session, with one consolidated recovery.
What happens during a breast reduction?
For your safety, breast reduction surgery is performed in a fully accredited outpatient surgery center or hospital:
When you arrive, Dr. Gallus will review your procedure plan with you, mark planned incisions on your breasts, confirm your goal size, and answer any last-minute questions you have.
Breast reduction surgery is performed under general anesthesia, meaning that you will be completely asleep for its entirety (about 2-3 hours).
Dr. Gallus makes incisions and removes the excess breast tissues with surgical techniques designed to carefully preserve blood supply to the nipple and areola.
Incisions are closed with absorbable sutures (you won't need to have them removed later).
Surgical drains are unlikely to be necessary unless liposuction was a major part of your surgical plan.
We apply surgical dressings and place you in a post-surgical compression bra, which helps to ensure proper healing.
How long is recovery?
Following breast reduction, most patients return to work and socializing in about 2 weeks and gradually get back to their exercise regimen after 4 weeks. Expect soreness, swelling, and bruising at first, and plan to be wearing a support bra for several weeks during recovery to promote optimal results. You will go home the day of your procedure but will need to have a trusted adult drive you home. We will provide you with a detailed recovery booklet, and Dr. Gallus' medical team will be a phone call away if you have any questions or concerns.
Special considerations for nipple recovery
Many patients are concerned about what happens to their areolas in a breast reduction, and how nipple sensation could be affected over time. We believe that the nipple-areola complex is super important, and pay special attention to them in developing a research-backed procedure plan for your reduction. We typically need to place the nipple and areola higher on the chest to achieve a gorgeous, natural-looking outcome, but in 99% of cases, repositioning them does not require removing them. If you have larger-than-average areolas—greater than 40-45mm in diameter—the areola will likely be reduced. When you wake up, you can, at first, expect to have reduced sensation in your breasts. Over the next few weeks and months, sensation returns to the skin and the nipple-areolar complex. Still, be aware that some women can have permanently decreased nipple sensation. (Women with very large breasts can have decreased sensation to begin with, and often this doesn't change afterward.) You will be given oral pain medication to prevent discomfort.
Breast reduction results
Breast reduction results are visible after major swelling is gone, usually within 4-6 weeks, allowing you to enjoy your new look! Still, your reduction results will continue to become more refined for several months as minor swelling continues to subside.
Scar care
Even after you have healed, our team will help you keep refining your results from breast reduction! Surgical scars take about 9 to 12 months to fully mature, but scar care begins at your one-month post-op appointment. We'll send you home with a tube of scar gel (included in your surgical package) and talk with you about common-sense tips like:
Avoiding the sun
Wearing sunscreen
Scar massage
Laser treatments
To further refine your results, a series of fractionated laser treatments—the same laser used for facial anti-aging—can also be super helpful for minimizing scars' appearance.
View breast reduction before & after photos »
Let's do this!
San Diego Female plastic surgeon Dr. Katerina Gallus and our team are here to make your vision a reality. By partnering with you to learn about your goals and priorities, Dr. Gallus develops the ideal plan to help you feel comfortable and confident in your body with breast augmentation, breast reduction, fat transfer to the buttocks, or other rejuvenation procedures. We also discuss pricing, personalization, and much more in your consultation. Begin your journey by scheduling a free consultation at our San Diego office: call 858-224-2281 or shoot us a quick message—we're here to help!
Your Safety = Beautiful Results

Breast Reduction San Diego at Restore SD

At Restore SD Plastic Surgery, we maintain the highest level of clinical competence and integrity—this means we always place patient safety first. As a board-certified plastic surgeon and former Navy plastic surgeon, Dr. Katerina Gallus only operates at fully accredited, private outpatient surgical facilities located within minutes of our office. She also holds hospital privileges at Scripps Memorial Hospital La Jolla. We work with board-certified anesthesiologists at 2 different certified anesthesia centers in San Diego.
Related procedures
---
Breast surgery blog posts from Dr. Gallus