When you visit Dr. Katerina Gallus for your free breast augmentation consultation at our San Diego office, we will discuss your goals, examine your anatomy, and go over the options you have for your procedure. Below, we outline some of the important factors of breast augmentation that affect your final results: breast implant type, incision location, and implant position, as well as the cosmetic benefits and what you can expect after surgery.
Breast implant options
1. Silicone breast implants
Silicone breast implants consist of an outer silicone shell that is filled with a cohesive silicone gel. The dimensions and consistency of silicone gel implants come in many varieties. We utilize the Vectra XT 3D imaging system to allow you to see simulated results and work with Dr. Gallus to find the implant best suited to your body.
2. Saline implants
Saline breast implants consist of an outer silicone shell that is filled with sterile salt water (saline). Saline implants have a long track record of safe use in plastic surgery and are often requested by patients based on personal preferences or prior experience with saline implants.
3. Structured saline implants
Structured saline breast implants are the latest addition to the implant market. These offer a more natural feel than traditional saline implants without using silicone gel filling. The unique series of implant shells nestle together between two separate chambers that contain the saline. The structured saline implant uses traditional implant materials for the external and internal shells to control saline movement and support the edges to minimize collapse and visible wrinkling, or implant rippling.
Breast augmentation incisions
The incision location is chosen based on the patient's preference and the surgeon's recommendation in order to achieve the best possible outcome. Incisions are placed in inconspicuous locations to minimize visible scarring. Typically, one of the following incision locations may be used:
The inframammary incision is placed along the breast crease, where the underside of the breast meets the skin of the upper abdominal area.
The periareolar incision is placed around the lower half of the nipple-areolar complex.
Breast implant positioning
Implant positioning, or placement, will impact the final results of your breast augmentation. The ideal placement, whether over or under the pectoral muscle, will be determined by your aesthetic goals and your surgeon's expert guidance, taking into account how much natural breast tissue you have.
Under-the-muscle implant positioning places the upper part of the implant beneath the chest muscle. The lower part of the implant is beneath glandular breast tissue. This technique can provide a natural breast slope and a natural breast appearance. It is ideal for thin patients with small amounts of natural breast tissue.
Over-the-muscle implant positioning places the implant beneath the glandular tissue and over the chest muscle. It gives a very natural appearance in women who have a moderate amount of breast tissue.
View breast augmentation before & after photos »
The aesthetic benefits of breast augmentation surgery
Everyone has a unique goal for their breasts, and your free consultation will be the perfect opportunity to articulate these goals with Dr. Gallus. Many patients' goals for their new look include some change to their breast fullness, how their breast size relates to their overall frame, and/or improved symmetry:
Fullness: You may choose breast augmentation because your breasts lack attractive fullness. Factors such as implant type, position, and profile will affect the size of your breasts and where the fullness occurs (many women desire improved "upper pole fullness"). Increasing the size of your breasts can restore the soft, feminine appearance you may be looking for.
Balance: Breasts that are too small for your frame can create unbalanced proportions with your hips, shoulders, or other features. For women with curvier hips, small breasts can lead to a triangle-shaped body rather than the more desired hourglass shape, for example. Enhancing your bustline can create subtle, attractive curves and improve the overall balance of your physique.
Symmetry: It's common to have breasts that are slightly different sizes. Asymmetry is naturally occurring and is present in a significant number of women. Since we tailor all breast augmentation procedures to our breast augmentation patients, adjustments can be made to treat asymmetry and provide a more symmetrical and even breast appearance.
The last reason many San Diego women choose breast implants is confidence. Deciding to undergo breast augmentation should be for personal reasons. Enhancing your physique can not just achieve the aesthetic you desire, but also improve your confidence and comfort.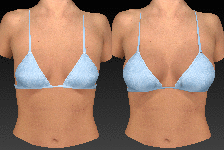 Breast augmentation recovery
What is recovery like?
You will experience bruising and swelling around the breasts. Most breast augmentation patients return to work within one to two weeks of their procedure and can resume their regular exercise routine after four weeks. Patients will be required to wear a special support bra for several weeks during their recovery. Major swelling should subside within six weeks, but minor swelling can last for several months.
What kind of pain should I expect?
General anesthesia prevents pain during your surgery, and oral pain medicine is used to prevent discomfort following your surgery. Most discomfort only lasts several days.
How much time should I take off work?
You should expect to take one to two weeks off from work, depending on what you do for a living. You will need a ride home after having your procedure under general anesthesia, and you should have a friend or family member stay with you for the first night and a day or two, if possible. You will not be able to drive while taking narcotic pain medication.
What will my scars look like?
Breast augmentation uses thin, well-placed incisions designed to limit visible scarring. However, scar development varies based on the patient's natural healing abilities. Scars take 9 to 12 months to fully mature, and the Restore SD Plastic Surgery team will help you with scar care as an important part of recovery, which may involve avoiding the sun (no topless beaches for six to nine months!), scar cream, scar massage, and/or fractionated laser treatments as needed.
Schedule your free consultation with board certified plastic surgeon Dr. Katerina Gallus in La Jolla
Dr. Katerina Gallus at Restore SD Plastic Surgery will partner with you to determine the breast augmentation plan that achieves your goals. To begin your journey with a free consultation at our San Diego office, call 858-224-2281 or contact us online today.
---
Reviews
"Dr. Gallus is amazing and I am so glad that I chose her to perform my breast augmentation surgery. She walked me through the process from start to finish and her staff was always attentive and available. I felt like she really understood me and wanted me to look fabulous! I am ecstatic about my results and have never felt better about the way I look. It was such a meaningful positive change for me and I can't say enough great things about Dr. Gallus. I have given Dr. Gallus great reviews and have recommended her to my friends and family. I will be a customer for life and look forward to scheduling laser and facials with her down the road." Regards, – S.V.
Read More Reviews
---
Breast Augmentation FAQs
---
Carpools and Cannulas, Ep. 10: Breast Augmentation
In this episode of "Carpools and Cannulas: Modern Motherhood and Plastic Surgery," Dr. Katerina Gallus and Dr. Jennifer Greer discuss all things breast augmentation—breast implant options, breast implant screening, the importance of choosing a surgeon who is board certified, and more.