So you've decided to get the breasts you've always wanted—we're excited to be a part of your journey! Whether you're going for a completely natural look for your breasts or you're ready to see more confidently plump curves, San Diego plastic surgeon Dr. Katerina Gallus is here to help you make your vision a reality with safe, research-driven methods and modern technology that allows for comprehensive consultations and gorgeous, next-level implant results.

Holiday Surgery Special
20% OFF a Breast Augmentation when you pair it with a Tummy Tuck in December!
What is breast augmentation?
Breast augmentation uses medical-grade silicone gel- or saline-filled breast implants to increase breast volume, improve fullness and shape, and to help you reach your goals for your figure. Modern breast implants allow experienced, skilled board-certified plastic surgeons to achieve gorgeous outcomes, customized to your vision for your breast enhancement, with either silicone gel- or saline-filled implants and the ideal placement for you. You may have also heard breast augmentation referred to as augmentation mammoplasty, "breast aug," or a "boob job."
Why choose breast augmentation surgery?
Our most satisfied breast augmentation patients come to us with one or more of these concerns:
You have always wanted more volume and lift in your breasts to fill out bikinis, summer dresses, or other clothing
You have genetically small breasts, and want a fuller look that is proportional with your hips and shoulders
Your breasts have a deflated appearance due to childbearing, breastfeeding, or aging and want to add lift
Your breasts have asymmetry you'd like to correct
Ultimately, your reasons for choosing breast augmentation plastic surgery are completely personal—and we're here to empower you with information about the safety of breast implants, how the procedure works, which implants are right for you, and what your best breast augmentation options are.
Are breast implants right for me?
To be a good candidate for breast implant surgery with implants, you need to agree with ALL of the following statements:
You are in overall good health
You do not smoke, vape, or use other nicotine products
You are prepared to take 1-2 weeks of downtime to recover, and to avoid strenuous activities and heavy lifting for 6 weeks
You are at least 18 if you are getting saline implants, and at least 22 for silicone implants—or, if younger than these FDA-issued age guidelines, are a candidate for "off-label" use of implants
You have a BMI of less than about 30 (you can calculate yours with this free online BMI calculator)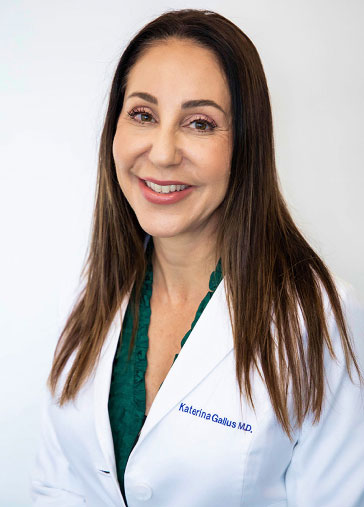 Dr. Katerina Gallus
Dr. Gallus has over 20 years of experience and is a fully credentialed, board certified plastic surgeon. She will partner with you to develop a tailored surgical plan that prioritizes your safety and results.
The breast augmentation consultation
Because we believe in making our patients feel uber-comfortable before they even arrive at our San Diego plastic surgery office, we want to shed light on what really happens in a breast augmentation consultation. The breast augmentation consultation with Dr. Gallus is all about you! This will be an open conversation, allowing you to express yourself and get Dr. Gallus' expert input on tailoring breast implant procedures to meet your goals.
We will greet you as you arrive and confirm we have all of your intake information, including a complete medical history. We'll send these ahead and, ideally, you will have completed our digital forms from home (where you have all of your information handy) before you arrive.
Dr. Gallus will review your medical history and medications, then sit down to talk with you one-on-one: What are your goals for your appearance? What are your concerns? Dr. Gallus will then carefully examine your anatomy to make sound surgical and aesthetic recommendations. Another clinical staff member will be present throughout the physical exam to ensure your comfort. We will take digital imaging photos with our Vectra 3D system —a state-of-the-art camera and software we use to help you visualize possible procedure outcomes.
During your consultation, Dr. Gallus may share related or often-combined procedures that could help you reach your aesthetic goals, such as a fat transfer or breast lift.
Your implant sizing session is the most fun part! You'll try on a range of breast implant sizes and have the chance to handle real implants (both silicone and saline) to see how they feel. This can help you to finalize your decision about which implants will make the most sense for your lifestyle.
You'll have a chance to meet with your patient coordinator to review a personalized fee quote explaining the complete San Diego breast augmentation cost. Each patient's cost will vary based on the details of the procedure plan options and implants that Dr. Gallus recommends to meet your goals. (Remember to consider your surgeon's qualifications, experience, and safety rather than making a decision based on cost alone!)
Once you've chosen breast implants and worked out the details of your surgery and decided to put a date on the calendar, you and Dr. Gallus will go over a Patient Decision Checklist to ensure you are aware of any risk and can make a fully informed decision about your implants.
Some patients may choose to come back for a second consultation before putting a surgery date on the calendar. This is completely normal, and we encourage it—the ideal is for you to feel informed and empowered to make the best breast surgery decision. Learn more about our consultation process »
"I am ecstatic about my results and have never felt better about the way I look."
—S.V., Breast Augmentation Patient
Your San Diego breast augmentation options
Types of implants: Silicone breast implants, saline breast implants, or structured saline?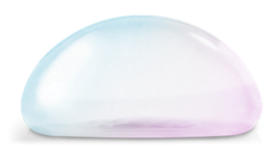 The most popular type of breast implants today, silicone breast implants consist of an outer silicone shell that is filled with cohesive silicone gel implants. These breast implants are lightweight, with a natural feel that mimics natural breast tissue. Other popular implants, saline breast implants, consist of an outer silicone shell, much like that of silicone implants, that is filled with sterile salt water (saline). Saline implants have an extra-long track record of safe use in plastic surgery procedures, and some patients request this kind of implant due to personal preferences or because they have prior positive experiences with saline implants. Structured saline implants are the newest FDA-approved breast implant: they consist of nested implant shells separated by chambers that contain saline filling. This structure supports the implant edges to minimize implant "rippling," and they have a more natural feel than typical saline implants.
Incisions for breast implants: inframammary or periareolar
Breast augmentation procedures uses well-placed incisions designed to both conceal and limit visible scarring on the skin. The most common incision options are:
The inframammary incision is placed along the breast crease, where the underside of the breast meets the skin of the upper abdominal area.
The periareolar incision is placed around the lower half of the nipple-areolar complex.
Even after implants are placed and your incisions are closed, the Restore SD Plastic Surgery team will help you keep refining your results! Surgical scars from an incision take about 9 to 12 months for the skin to fully mature, but scar care begins much sooner. At your one month post-op appointment, we'll send you home with a tube of incision scar gel that's included in your surgery package (we keep it simple). We will also talk with you about common-sense tips like avoiding the sun (no topless beaches for six to nine months!), wearing sunscreen as needed, and scar massage. To further refine your scars, a series of fractionated laser treatments (the same ones used for facial anti-aging) can also be super helpful for minimizing scars' appearance.
Implant placement: over or under the muscle of the breast
Implant placement, whether over or under the pectoral muscle, will be determined by your aesthetic goals and how much natural breast tissue you have. Under-the-muscle implant positioning places the upper part of the implant beneath the chest muscle. The lower part of the implant is beneath glandular breast tissue. This technique can provide a natural breast slope and a natural breast appearance with implants. It is ideal for thin patients with small amounts of natural breast tissue. Over-the-muscle implant placement places the implant beneath the glandular tissue and over the chest muscle. It gives a very natural appearance in women who have at least a moderate amount of breast tissue.
Breast implants profile: High, medium, or low
High profile implants have the most projection, like a gumdrop; low profile implants are less projected; and medium profile implants fall in the middle. Based on your body frame and your desired cleavage, Dr. Gallus will help you select the implant profile and projection to get the look you want.
Combined San Diego breast augmentation procedures
A La Jolla breast augmentation is often combined with the following procedures: breast lift, liposuction, tummy tuck (abdominoplasty), and/or labiaplasty. Breast and body procedure combinations are often referred to as a mommy makeover, but they are not just for moms! Dr. Gallus will be happy to talk with you about your San Diego body contouring options during your consultation.
It is also common after childbearing, breastfeeding, or aging to require a combined breast lift breast augmentation surgery to restore volume to deflated and drooping breast tissues, lift breasts higher on the chest, restore and lift a natural-looking nipple position to the center of the breast mound, and achieve a proportional breast size that feels right for you. Our before and after gallery has photos of our patients who have undergone a range of plastic surgeries, alone and in combination.
The recovery process
Breast augmentation surgery is performed under general anesthesia, meaning that you will be completely asleep while implants are placed. However, you will go home the day of your surgery to recover, so you will need to have a trusted adult to drive you home. We will provide you with a detailed recovery booklet, and Dr. Gallus' medical team will be a phone call away if you have any questions or concerns.
You will be given oral pain medication to prevent discomfort after surgery. Expect swelling and bruising, and plan to be wearing a support bra for several weeks during recovery to promote optimal results. Most patients return to work and going out within 1-2 weeks and get back to their exercise regimen after 4-6 weeks. Major swelling is usually gone within 6 weeks, but your results will continue to become more refined for several months after surgery as minor swelling will continue to subside.
When will I see results after a breast augmentation?
You can enjoy a change contour and lift of your breasts right after your surgery, and you should be able to see near-final results after about 2 months. Final results are mostly visible after 6 months, once reduction of swelling is near complete. If you have your implants placed under the muscle, your implants will gradually settle into their final position for 6 months to 1 year as part of the "drop and fluff" process.
How long will my breast implants last?
You can expect to enjoy your new breast shape for many years after surgery. Although breast implants are not lifetime devices, many women keep their breast implants and enjoy their shape for decades.
To help extend your results, plan breast implant surgery after you are finished having children. While it is safe to get pregnant after breast augmentation, changes that accompany childbearing will have an affect on your results.
If you're experiencing dissatisfaction or complications with your current implants from a previous surgery, Dr. Gallus is also highly experienced with breast implant revision. A breast augmentation revision can remove or replace your existing implants to address complications or refine the aesthetic results.
Schedule your free consultation with Dr. Gallus
Female plastic surgeon Dr. Katerina Gallus and our San Diego plastic surgery team are here to make your plastic surgery journey a positive—and even fun—experience! Dr. Gallus partners with you to establish the perfect breast augmentation surgery plan to achieve your goals. To begin your journey with a free consultation at our San Diego office to discuss surgery recommendations, cost, and more, call 858-224-2281 or contact us online today.
Your Safety = Beautiful Results

Breast Augmentation San Diego (Breast Implants) at Restore SD

At Restore SD Plastic Surgery, we maintain the highest level of clinical competence and integrity—this means we always place patient safety first. As a board-certified plastic surgeon and former Navy plastic surgeon, Dr. Katerina Gallus only operates at fully accredited, private outpatient surgical facilities located within minutes of our office. She also holds hospital privileges at Scripps Memorial Hospital La Jolla.
---
Breast augmentation blog posts from Dr. Gallus