Restore SD is excited to introduce the next generation of radiofrequency microneedling. The Virtue RF by Cartessa effectively targets unwanted scars and wrinkles while it simultaneously tightens the skin with minimal downtime. This technology offers an exciting alternative and supplement to surgery and traditional lasers.
One of the major advantages of the Virtue RF is that it is colorblind – unlike lasers that have a specific target – the Virtue RF delivers energy below the epidermis to tighten skin without the risk of pigmentation problems. The Virtue RF is safe for all skin types and offers a clear benefit to those who are unable to have a more aggressive laser or chemical peels due to their skin color.
Because radiofrequency microneedling can deliver targeted energy it can accomplish what an intense laser or peel would without the downtime. Optimal results usually require multiple treatments but are fully customizable and work well with other treatment options such as laser, plasma pen, topical skin-rejuvenating serums.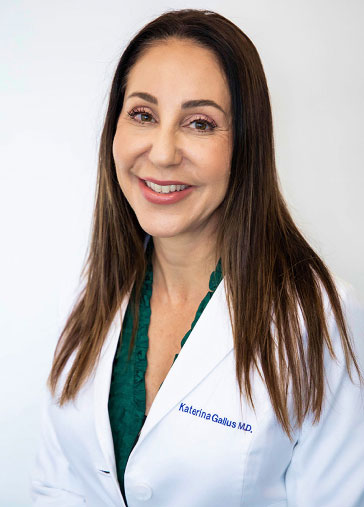 Dr. Katerina Gallus
Dr. Gallus has over 20 years of experience and is a fully credentialed, board certified plastic surgeon. She will partner with you to develop a tailored surgical plan that prioritizes your safety and results.
How does Radiofrequency Microneedling Work?
First, let us define microneedling.
Traditional microneedling works by creating micro injuries in the skin with a special device that allows multiple small needles to penetrate at adjustable depths to stimulate a collagen response. By adding radiofrequency energy, the micro needles deliver this energy deep into the dermis. The energy provided by radiofrequency causes immediate constriction of the skin as well as increase collagen and elastin production. The Virtue RF, the latest development from the company that created Vivace, creates a big impact with minimal downtime.
Before and After Photos of VirtueRF Microneedling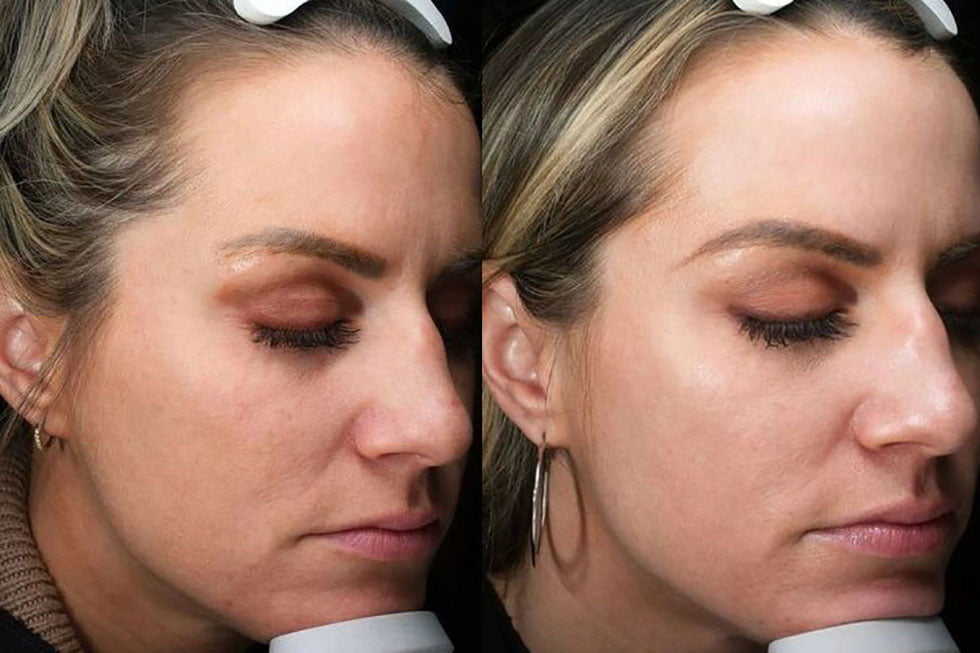 Before and After Virtue RF Microneedling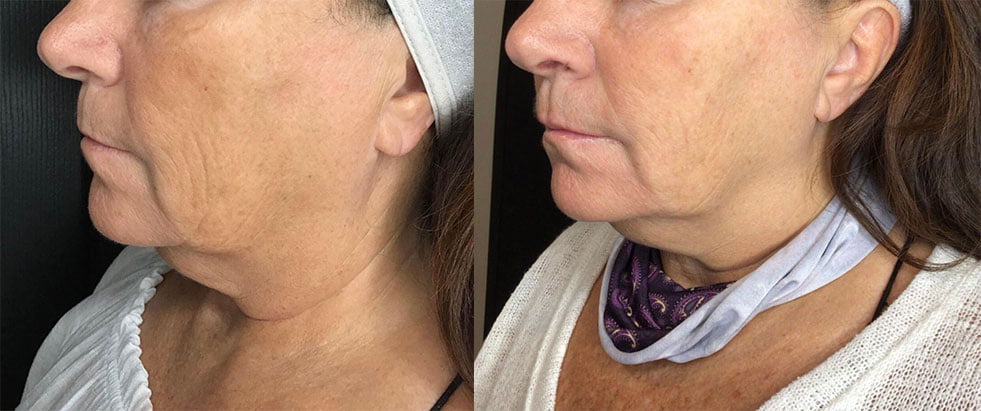 Before and After Virtue RF Microneedling
What Areas Can I Treat with Virtue RF Microneedling?
Forehead wrinkles
Sagging upper eyelids and crepey skin under the eyes
Neck lines and laxity
Acne scars
Acne breakouts
Sun damage
Uneven Skin Tone
Crepey skin on the arms and abdomen
Stretch Marks
Skin rejuvenation with the Virtue RF has many possibilities and can target problem areas on the face, hands, and body – anywhere fine lines and wrinkles or acne scars are a concern.
"I have been going to Dr. Gallus since 2019 for treatments including Botox, fillers, IPL, and microneedling with radio frequency. My results since switching to Dr. Gallus have been better than my previous aesthetic doctor. I look much more natural and have very little, if any bruising after injectables. Also, I love the office staff! It's a very down to earth, relaxed and fun atmosphere."
—Actual patient of Dr. Gallus
What Can I expect during Virtue RF Microneedling treatment?
The Virtue RF's precise robotic motor and gold plated needles offer a truly comfortable and customizable experience.
While at Restore SD, your skin will first be prepped with a topical numbing cream and treatment will be adjusted to maximize results and comfort. The Virtue RF experience finishes with an electro current post-treatment mask to enhance recovery. Results are immediate – you will see a visible reduction in pore size and your skin will feel tighter. This will improve as time passes, providing the best of both worlds. This in-office treatment time depends on the area being treated, but most patients find their treatment is less than 60 min and are able to return to work immediately. You may have a few days of redness or some skin flaking but the most important post-treatment is to protect your skin with sunscreen.
Is Virtue RF for me?
Targets Wrinkles & Fine Lines
Aims to Tighten Skin
Improves Skin Tone & Texture
Immediate Results
No Downtime
Virtually Pain-Free
If you are seeking optimal results, The Virtue RF Experience delivers. This treatment series is a great option for those who want to target aging skin with minimal downtime.
Contact Restore SD Plastic Surgery today at (858) 224-2281 to schedule your next generation, Virtue RF Microneedling treatment and discover renewed skin.
---
FAQs
What areas can be treated with Virtue RF Microneedling?
The most popular areas to treat are around the eyes (both upper and lower), peri-oral (around the mouth), forehead, jawline, décolleté and neck. Because Virtue RF Microneedling can target very specific areas of concern, your provider may discuss combining it with other aesthetic treatments.
How long does a Virtue RF Microneedling treatment take?
The length of the procedure will depend on the area you are treating. Most treatments take 1 – 2hrs, including time for the topical local anesthetic. This is an 'in office' procedure and you'll easily be you may head home minutes after the procedure.
What post-care steps are required after RF microneedling?
Every patient will receive specially formulated post-care products and instructions to keep the area dry to help with the healing process. You will also receive post-care instructions and tailored skincare recommendations to help with the healing process. Most importantly you should use sun protection after treatment.
When will you see microneedling results?
Results can be seen immediately after the treatment and beyond. You will see continued improvements for up to 6 months after your Virtue RF Microneedling procedure.
Who is a candidate for Virtue RF Microneedling?
Talk to your provider about whether treatment with Virtue RF Microneedling is right for you. Some skin types may be at risk of post-procedure pigmentation issues, so it is important to talk with a licensed aesthetic provider.
What should you expect from your Virtue RF Microneedling treatment?
Virtue RF Microneedling gives you long-lasting naturally radiant skin. You should expect firmer skin and improved texture and a healthy glow.
Contact Restore SD Plastic Surgery at (858) 224-2281 to schedule your appointment today!