It is common to wonder whether or not you need a breast lift with your implants, and how this combination of procedures differs from breast augmentation or breast lift performed alone. Below, we explain how breast lift with implants in La Jolla with board certified plastic surgeon Dr. Katerina Gallus can restore a shapely, natural breast contour.
We can make it happen in September – just opened NEW dates! Call 858-224-2281 or contact us online »
What is a breast augmentation with lift?
Also known as "augmentation mastopexy," breast augmentation with lift combines breast augmentation with implants and a breast lift. The breast implants provide fullness, shape, and a boost in size, while a breast lift raises the breasts higher on the chest and repositions the nipple-areola complex at the center of the breast mound.
In addition to restoring a full and beautiful breast shape and position, this procedure combination can:
Improve the fit of bras and swimsuits
Restore symmetry between the breasts
Help to balance your upper body proportions with those of your lower body
Breast augmentation and breast lift can often be performed at one time, with one single recovery period.
Am I a good candidate for breast augmentation with lift?
Good candidates for this breast lift with implants typically identify with the following:
Your breasts have lost volume due to pregnancy, aging, genetics, or weight loss.
Your breasts sag; or, you have mild breast sagging, and you want to prevent sagging from worsening after implants are placed.
Your nipples face downward or fall below the inframammary fold.
You are in good health for surgery, a non-smoker, and at a stable weight.
Many patients who benefit from this procedure also have a history of breastfeeding, weight changes, or prolonged sun exposure.
How do I know if I need a breast lift with my implants?
Implants add volume, shape, upper pole fullness, and cleavage to the breasts. For certain patients with very mild sagging, the small "lift" provided by the breast implants' volume may be sufficient to meet their goals for their breasts.
However, if your breasts appear deflated and/or your nipples rest at or below the crease at the base of your breast, then a breast lift may be necessary to create an ideal breast augmentation result. Breast implants alone will not raise the breasts higher on the chest, significantly change the position of your nipple areola complex, or address stretched tissues (which may not be able to sufficiently support an implant).
Further, a lift alone tends to create a sloping breast shape; those who prefer a more rounded upper breast will benefit from a breast lift with the addition of implants. In short, a breast lift addresses sagging (breast ptosis), while breast implants provide enhanced shape.
Vectra 3D imaging for your breast surgery consultation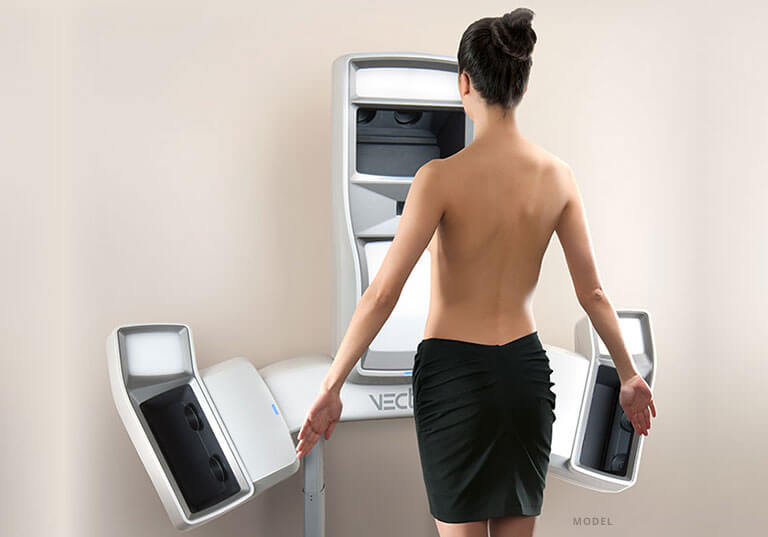 If you are unsure whether or not your desired results require a combination procedure, Dr. Katerina Gallus will be happy to talk with you during your consultation about what you can expect with different procedure options. You will also have photos taken with our VECTRA® 3D imaging system, and together you and Dr. Gallus will be able to view potential surgical results using our state-of-the-art Canfield software. We are able to make adjustments as we go, helping you to visualize your potential results with various procedure combinations.
Your breast lift with augmentation procedure
What are my breast implant options?
You will have the same range of breast implant options as a patient undergoing breast augmentation alone, including silicone gel-filled ("gummy bear"), saline-filled, and structured saline implants. Visit our breast augmentation page to learn more about breast implant options.
You will also be able to choose whether implant placement over-the-muscle or under-the-muscle is right for you. While Dr. Gallus will educate you on all of your options, breast implant positioning is also covered in detail on our breast augmentation page.
Where will my incisions be?
You will have a number of incision options; together, you and Dr. Gallus will choose your incision location based on your goals and the technique that is ideal for your breast position, shape, and size.
Inverted T-shaped incisions (a.k.a. anchor): This common incision extends around the areola, vertically down, and connects to a horizontal incision that is hidden in the lower breast crease. This incision allows for maximal skin removal and reshaping of the breast, as well as nipple repositioning.
Vertical incisions (a.k.a. lollipop): This short-scar breast lift incision extends around the areola and then vertically down to the crease at the base of your breast, and can be used to reposition the nipple and address a minimal amount of excess skin.
Circumareolar incisions: This minimal incision, placed around the circumference of the areola, can be used for minor lifting, to create symmetry, or to very slightly adjust the position of the nipple.
Note that any of these incision patterns may also include a reduction in the size of the areola, as desired.
What kind of anesthesia will I have?
Breast lift with breast implants is performed under general anesthesia in a fully AAAASF-accredited surgery center for your comfort and safety. You will be asleep for the entirety of your procedure, which usually takes about 3 hours when combined.
How much does a breast augmentation with lift cost in San Diego?
At our practice, the cost of breast augmentation with lift begins at $9,500. The cost of the procedure will vary on an individual basis based on a number of factors, including the type of breast implant you choose, the details of your procedure, the technique that Dr. Gallus uses, and any other procedures you decide to include in your mommy makeover. Rest assured that a detailed quote will be provided to you during your consultation, which will also include surgical fees, facility fees, and anesthesia fees.
What is the recovery time for a breast augmentation with a lift?
Most patients return to work after a week or two, but you will need to take it easy and avoid heavy lifting or exerting yourself for about 4-6 weeks.
After your surgery, have a friend or family member to drive you home and stay with you for a day or two. You will have a post-surgical bra to wear to minimize swelling, and while soreness is normal, pain can be managed with medications. It is important to rest for several days after surgery, sleep in a slightly elevated position, and avoid lifting anything heavy or getting too active. Most patients take 1-2 weeks to rest and recover before returning to desk jobs. You won't be able to lift anything heavy, including children, so you may need to arrange for childcare for several weeks. You will be cleared to gradually resume exercise and more strenuous activities after 4-6 weeks.
When will I see results after a breast augmentation-mastopexy?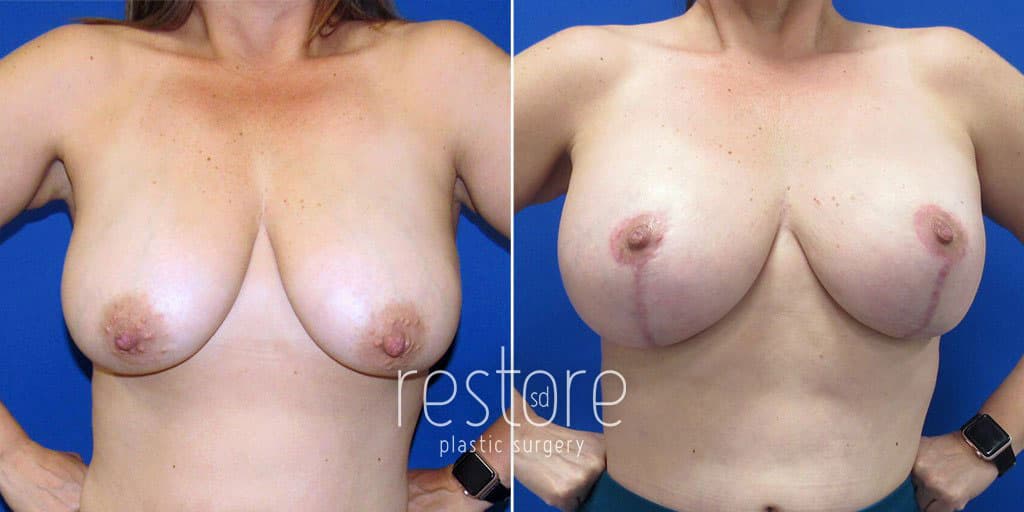 While your improved breast shape will be obvious right after your procedure, you should be able to see near-final results after about 2 months. Final results are mostly visible after 6 months, once swelling has largely subsided. If you have your implants placed under the muscle, your implants will gradually settle into their final position for 6 months to 1 year as part of the "drop and fluff" process.
We will also talk with you about scar care after surgery. While you should expect visible scars after this procedure, know that over time they will continue to fade.
View breast augmentation with lift before & after photos »
How long will my breast augmentation with lift results last?
You can expect to enjoy your new breast shape for many years after surgery. Although breast implants are not lifetime devices, many women keep their breast implants and enjoy their shape for decades. Barring the natural aging process, your breasts will continue to appear perkier and fuller.
To help extend your results, plan breast surgery after you are finished having children. While it is safe to get pregnant after breast augmentation with lift, changes that accompany childbearing will have an affect on your results.
Choose Dr. Katerina Gallus of Restore SD Plastic Surgery for your San Diego breast surgery
San Diego board certified plastic surgeon Dr. Katerina Gallus holds over 15 years of experience with reconstructive and cosmetic surgery. Dr. Gallus has helped many women achieve their goals with breast lift and breast augmentation in La Jolla. A former Navy plastic surgeon, she is certified by the American Board of Plastic Surgery (ABPS) and holds membership in the American Society of Plastic Surgeons (ASPS) and The Aesthetic Society, among other professional organizations.
When you meet for your consultation, Dr. Gallus will listen to your goals for your body and partner with you to develop a surgical plan that will leave you looking and feeling your personal best. To schedule your free personal consultation, call Restore SD Plastic Surgery at 858-224-2281 or reach out to us online today.
Related: