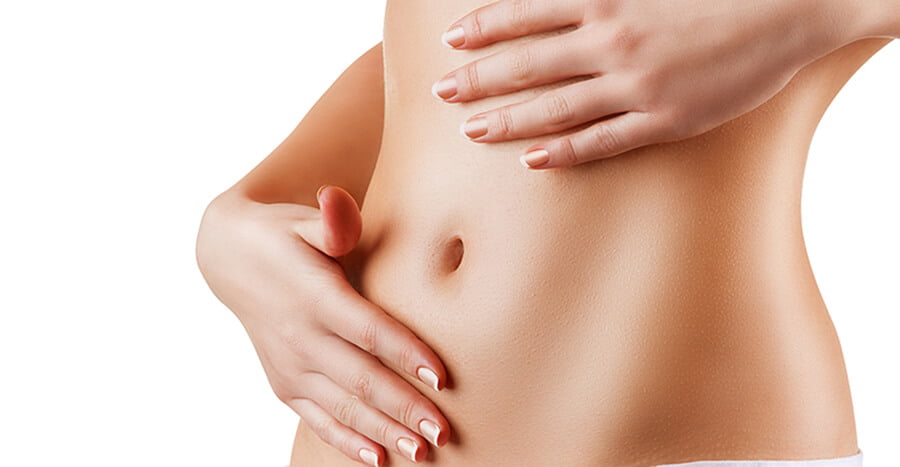 Why do I have a lower belly pooch?
If you have had one or more pregnancies or experienced a significant weight change, chances are you may have stretched out abdominal muscles and maybe even a lower tummy pooch consisting of loose skin and fat. After pregnancy or weight loss, the skin and abdominal muscles lose some natural elasticity and may not be able to return to their previous shape. When the skin and muscles are over-stretched, the resulting lower tummy pooch motivates many people to seek treatment.
How do I get rid of lower belly fat?
A tummy tuck, or abdominoplasty, is a procedure that may include repair of the stretched-out muscles of the abdomen, removal of extra skin and fat, as well as improved appearance of stretch marks. The best candidates for tummy tuck are healthy, at a stable weight, engaged in a regular nutrition and exercise program, and are finished having children. Before you get too far into researching tummy tuck surgery in San Diego, it is important to realize that tummy tuck surgery is designed as a body contouring procedure and not intended to be a weight loss procedure.
Do I need surgery to fix my lower belly pooch?
There are many quick fixes, creams, and non-surgical body contouring treatments advertised that claim to erase stretch marks, tighten skin, and flatten your stomach. These non-surgical treatments have tremendous variability and do not have the proven durability or immediate results of surgery. Clean eating and hitting the gym are important in helping you achieve a weight loss goal, but you may find that you still have a stubborn pooch. Tummy tuck, with or without liposuction, is the most effective means of treating excess skin, fat, muscle separation (diastasis recti), and removal of stretch marks.
When is the best time for tummy tuck surgery?
If you are done having children and would like to restore your figure, flatten your tummy, and tighten your abdominal wall muscles, then a tummy tuck is a great option. Make sure that you allow yourself adequate recovery time and have some help around the house for the first one to two weeks.
How do I know which tummy tuck procedure is right for me?
There are many surgical and non-invasive options being advertised for body shaping, body contouring, and skin tightening these days, so it is important to do your homework and understand what the best option is for you as an individual. The best place to start is an in-person consultation with a board-certified plastic surgeon in your area. At Restore SD Plastic Surgery, we utilize the Vectra 3D imaging system to demonstrate simulated results on your own body and help you decide on the best course of action. Knowing your options and how the popular non-invasive treatments really work is extremely important. For example, the results of Coolsculpting take months to become apparent and require multiple expensive treatments to be effective.
If you decide that surgery is for you, it is important to know that tummy tuck has a few variations. Your surgeon will work with you to develop a treatment plan that is best suited to your body type, goals, and timeline. The tummy tuck options include:
Standard tummy tuck
Extended tummy tuck
Mini tummy tuck
Any of these options may be combined with liposuction to further improve and refine your results.
Can I have other procedures at the same time as my tummy tuck?
How long does a tummy tuck take?
Tummy tuck surgery is done as an outpatient procedure and generally takes 2.5 – 3.5 hours. Your surgeon will discuss the use of drains with you during your consultation. Sometimes "drainless" tummy tucks are performed and other times drainage tubes may be required to assist with removing fluid from the surgical site.
How long is the recovery for tummy tuck surgery?
After your tummy tuck procedure, you will be tight and sore and feel like you did a ton of sit-ups. Recovery is a gradual process over the course of the first few weeks and patients notice a steady course of improvement. Most patients are back to their usual daily activities by 3-4 weeks after surgery and have resumed their more vigorous physical activities by 6-8 weeks.
Why should I come to Restore SD Plastic Surgery for my tummy tuck surgery?
At Restore SD Plastic Surgery, we will guide you all the way through the process from the initial phone call to recovery. In our experience, tummy tuck surgery has one of the highest patient satisfaction rates among all plastic surgery procedures and delivers consistently excellent results.
Board certified plastic surgeon Dr. Katerina Gallus and the Restore SD Plastic Surgery team are excited to take care of you, so when you are ready for an exceptional plastic surgery experience, look no further! Call us at 858-224-2281 or contact us online to book your complimentary consultation today.