Your facial expressions are a natural and essential part of communication, but repeated use of certain muscles can leave permanent lines and wrinkles in the forehead and around the eyes and mouth. Neuromodulators, of which BOTOX® Cosmetic has the most name recognition, temporarily inactivate those muscles to smooth the lines in your face. Other similar neuromodulator formulas work the same way, including Dysport®, which we also offer at our San Diego office.

Donate Toys for Botox
Help us get in the holiday spirit and support Toys for Tots! Get 10 FREE BOTOX UNITS when you bring in a toy during December! Limit 1 offer per patient.
Although Botox® is the most commonly performed procedure in the United States, it is important to ensure your provider is well-versed in facial anatomy and skilled as an injector. Although rare, complications can occur, and at Restore SD Plastic Surgery, we feel it is of the utmost importance to entrust your care to our certified and experienced injectors.
San Diego Botox: What you Need to Know
What is BOTOX Cosmetic and what does it treat?
Botox smoothes fine lines and wrinkles in a number of common areas of the face:
Prominent forehead creases or furrows
Frown lines or "11s" between the brows
Crow's feet around the eyes
A permanent scowl
Downturned corners of the mouth
Even beyond treating these common concerns, there are many effective uses for neuromodulators that are a cost-effective means to facial rejuvenation. Botox may even help to postpone surgical intervention in the aging process.
Botox minimizes the appearance of certain fine lines and wrinkles by blocking the nerve signals that tell a muscle to contract, temporarily relaxing the muscle that forms the wrinkle. By stopping the muscle from contracting as strongly, the wrinkles are softened or smoothed. Learn more about how cosmetic injections work on Dr. Gallus' blog.
Am I a good candidate for Botox?
You may be a good candidate for Botox if you see some of the above concerns in your face, and you wish for your appearance to reflect your inner positive self. A good candidate for Botox injections should also be in good health and not taking (or able to pause) any blood thinning medications, which include various prescription drugs, fish oil, ibuprofen (Advil), and aspirin.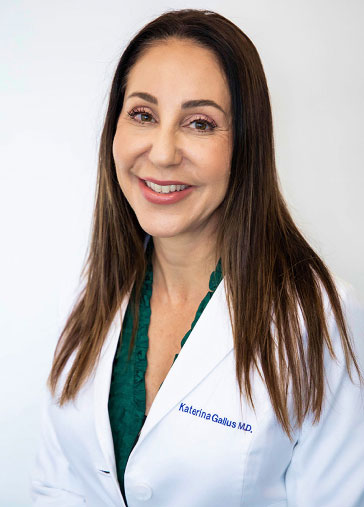 Dr. Katerina Gallus
Dr. Gallus has over 20 years of experience and is a fully credentialed, board certified plastic surgeon. She will partner with you to develop a tailored surgical plan that prioritizes your safety and results.
"I have been going to Dr. Gallus since 2019 for treatments including Botox, fillers, IPL, and microneedling with radio frequency. My results since switching to Dr. Gallus have been better than my previous aesthetic doctor. I look much more natural and have very little, if any bruising after injectables. Also, I love the office staff! It's a very down to earth, relaxed and fun atmosphere."
—Actual patient of Dr. Gallus
What can I expect from my first Botox treatment?
Your Consultation: During your initial Botox consultation, your Restore SD provider will perform a detailed facial and skin examination, review your medical history, and look at any medications you are taking.
We will take photos of your facial anatomy using our Vectra 3D imaging system, and we will discuss your goals, treatment areas, and treatment options together. Our state-of-the-art Canfield software allows us to view potential results, helping you to understand potential outcomes from treatment. We provide a tailored approach to your facial rejuvenation plan.
Your Treatment: Botox injections are performed in the office setting so you will be able to receive treatment that day.
Once we have determined the areas to be treated and the amount of Botox to use, we will apply a gentle cleanser and an antiseptic to the areas of injection. Dr. Gallus will then inject the neuromodulator using a very small needle. Shortly after, you can re-apply makeup and go about your day.
To help make the process as comfortable as possible, many patients like to apply ice packs before and after treatment. Botox treatments are generally repeated at regular intervals of 4 to 6 months. We can help you avoid hectic scheduling by setting up your next visit before you leave!
Your Results: If you are getting Botox for the first time, it is important to know that you won't see the results right away; it can take several days to a week to see the effects! It typically takes 3 to 10 days before effects are visible.
For our first-time patients, we recommend that you come back to the office in a week to assess your results and see if there are any little areas that need touching up to optimize your results.
Your Follow-up Treatments: After your first Botox session with Dr. Gallus, most patients return after one week for a re-assessment to evaluate the effectiveness of the treatment plan. Finding the right balance of dosage, frequency of treatment, and treatment areas can take a couple of visits.
Once you have an established plan with Restore SD Plastic Surgery, regular follow-ups for additional treatments can be scheduled every 4 to 6 months as part of an ongoing maintenance plan.
How much does BOTOX cost in San Diego?
The cost of Botox is calculated in "units," which cost $15 each. The number of units you need varies from person to person. For example, treating forehead lines and the glabella (between the eyebrows) may require anywhere from about 30 to 40 units, depending on your personal anatomy and goals. In general, most patients can expect to spend about $300-$600+ on their Botox treatment.
Our pricing for Botox reflects our years of experience and precise knowledge of anatomy necessary to provide you with a safe, reliable, and consistent experience. We believe in safety, training, and proper credentials for every injector. Proper, strategic use of Botox to create a natural result also prevents extra costs from touch-ups or corrections. We also stand by our products, and the cost reflects the use of genuine products obtained from U.S. manufacturers. We will not sacrifice the safety of our patients by using cost-cutting measures such as counterfeit Botox, over-diluted Botox, or a product obtained overseas.
Can I combine Botox with other facial skin rejuvenation treatments?
To restore youth and vitality to your appearance, Botox is an ideal complement to other facial rejuvenation procedures. Neurotoxin is often combined with fillers such as JUVÉDERM VOLUMA® XC, JUVÉDERM®, or Restylane®, as well as laser skin rejuvenation. We use a "BFF approach" that combines Botox, filler, and fractionated laser resurfacing to thwart the aging process. The BFF approach will maximize your non-invasive facial rejuvenation results.
Skin care is a vital foundation for every facial rejuvenation program. A complimentary skin care evaluation is offered at every Restore SD consultation in which our Restore SD team will make individualized recommendations for your skin type to ensure you have the healthiest and youngest looking skin possible.
You will want to invest in your skin outside of your office visits; treatment with Botox is a wonderful way to look and feel younger, and treatment results may be maximized by combining in-office treatments with an individualized skin care program at home.
In our office, we offer medical-grade skin care products from AlumierMD and ZO® Skin Health. These products use active ingredient concentrations that are not available in retail stores and are ideal complements to your results from Botox and other in-office procedures. Consider becoming a member of our Patient Loyalty Program and get the inside scoop on special offers and priority scheduling.
To learn about your facial rejuvenation options, schedule your consultation with board certified plastic surgeon Dr. Katerina Gallus at Restore SD Plastic Surgery in San Diego.
Dr. Gallus partners with you to understand your goals and achieve them safely, with proven treatments and procedures. Call 858-224-2281 or contact us online to schedule your appointment today.
"I had a procedure and some Botox at Restore SD Plastic Surgery a few months ago and I couldn't be happier with the results! I'm new to injections and it was even better than I expected. The team at Dr. Gallus's office is so friendly and put me at ease from the moment I came in."
—Actual patient of Dr. Gallus
---
More Frequently Asked Questions about BOTOX in San Diego
Will Botox injections hurt?
Pain from the injection is minimal. Aside from an occasional small amount of bruising, you can expect to immediately return to daily activities or work.
Rest assured that most patients report the discomfort from neurotoxin injections as being very minimal. Your comfort is our top priority at Restore SD Plastic Surgery, so we provide your treatment in a calming environment and provide you with a cooling pack for the treatment areas before and after the injections to minimize any pain or bruising.
What are the side effects of Botox?
Most side effects from Botox are limited to the injection area and may include swelling, redness, soreness, or bruising. Visible side effects are easily concealed with makeup, as needed, and tend to resolve within a week of your treatment.
How long does Botox last?
The effects of Botox wear off after about 4-6 months.
When should I schedule Botox if I have an event coming up?
Remember that it takes 3 to 10 days to see the effects of Botox: if you have an important event or just want to freshen up, you should allow yourself enough time for the treatment to take effect and any subtle bruising to subside.
What is the difference between Botox and Dysport?
There are multiple formulas of neuromodulators, each with very slight differences. At Restore SD Plastic Surgery, Dr. Gallus offers both Botox and Dysport—the two most commonly injected neuromodulators. Both are FDA-approved for treatment of fine lines and wrinkles of the face.
Both Botox and Dysport are purified Botulinum toxin, type A. There is a very slight difference in each formulation: Botox is onabotulinum, and Dysport is abobotulinum. Both have a shelf life of 24 months, are reconstituted in the same way, and are effective for treating fine lines and wrinkles through the same mechanism. They are made by different manufacturers and sold by different companies—they could be compared to the Coke and Pepsi of neuromodulators.
Botox and Dysport are well-researched, safe, and effective treatments for fine lines and wrinkles of the face. Still, they may not be the right choice for every line and wrinkle. Certain individuals' concerns may respond better to dermal fillers, fat grafting, laser skin tightening, or microneedling. In many cases, these other non-surgical procedures can complement the effects of Botox. We also advise all of our patients to maintain their results and prevent aging with an at-home skin care regimen.
To determine the solution(s) for your facial rejuvenation concerns, Dr. Gallus will thoroughly evaluate your areas of concern. We partner with you to develop a comprehensive facial rejuvenation plan that may include Botox, skin care, laser skin treatments, and/or injectable filler.
Some of our patients swear that either Botox or Dysport works better for them. We encourage you to try both botulinum toxin types as part of your ongoing maintenance plan and see if you notice a difference. Both neuromodulators are comparably priced, so you don't need to worry about changing products to manage cost.
While the product you choose will have an effect on your result, it's much more important to choose a highly qualified provider who will make customized, astute choices in regards to where to inject, how much to inject, and their injection technique.
I got Botox last week, but I don't see results. Can I get more Botox in order to achieve my desired look?
Yes, you can. By all means, come into the office and let us have a look. Your results and happiness are important to us. It is normal that finding the right balance of dosage, frequency of treatment, and treatment areas can take a couple of visits as we establish your ideal ongoing maintenance plan. Ask us about becoming a member of our patient loyalty program to receive priority scheduling and get the inside scoop on special offers.
Why should I choose Dr. Katerina Gallus for my Botox treatment?
Getting Botox from a provider who took a weekend course and wants to make a quick buck may be cheaper, but you may not be getting authentic Botox and your provider may not be well-versed in the details of facial anatomy—or prepared to take care of you if any complications arise.
Dr. Katerina Gallus is a fully board-certified plastic surgeon with a successful career as a navy plastic surgeon and, at Restore SD in San Diego, full focus on aesthetic procedures. She takes the time to listen to your goals and partners with you—rather than prescribing a plan—to achieve the best possible results that are in line with your aesthetic preferences and desired appearance.
At Restore SD Plastic Surgery, we stand by our products, techniques, and experience. We are here to deliver a safe, quality, and age-appropriate facial rejuvenation that will leave you looking and feeling younger and more self-confident.
Restore SD Plastic Surgery: Your Destination for San Diego BOTOX
To learn what Botox Cosmetic can do for you, check out Dr. Gallus' blog for more answers, schedule a free consultation at our San Diego office by calling 858-224-2281 or simply shoot us a quick message—we're here to help!
---
Your Safety = Beautiful Results

BOTOX San Diego | Your Trusted San Diego Botox Provider, Dr. Katerina Gallus at Restore SD

At Restore SD Plastic Surgery, we maintain the highest level of clinical competence and integrity—this means we always place patient safety first. As a board-certified plastic surgeon and former Navy plastic surgeon, Dr. Katerina Gallus only operates at fully accredited, private outpatient surgical facilities located within minutes of our office. She also holds hospital privileges at Scripps Memorial Hospital La Jolla.
---