What is a Brazilian butt lift?
A Brazilian butt lift is a form of buttock augmentation that uses your body's own fat instead of a silicone implant or other foreign material. During Brazilian butt lift surgery, Dr. Gallus harvests fat from fuller areas of the body (think: hips, belly, and thighs) using liposuction, purifies it in a centrifuge, then strategically injects it into the buttocks—a process called fat transfer. The result is a fuller, rounder behind using your body's own fat. BBL surgery has a satisfaction rate of 97.1%, according to the Aesthetic Surgery Journal.
Am I a good candidate for Brazilian butt lift surgery?
You may be a good candidate for a Brazilian butt lift if you:
Have a flattened buttocks and outer hips
Do not have a history of blood clotting problems such as DVT or PE
Have some extra fat in your hips, flanks, thighs, or abdomen
Want a natural means of achieving a round, perky backside
Are not taking blood thinning medications or using nicotine products
Are at a healthy, stable weight and are in overall good health
Have a BMI under 30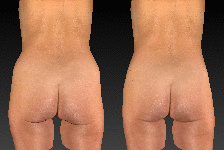 ---
Benefits of Brazilian butt lift surgery
Brazilian butt lift surgery can provide San Diego patients with the following benefits:
Enjoy a fuller, more contoured back end
Can improve confidence and self-esteem
No visible scars, lengthy recovery period, or potential for infection, unlike implant-based buttock augmentation
Uses the body's own fat to provide natural enhancement
BBL surgery has a satisfaction rate of 97.1%, according to the Aesthetic Surgery Journal.
About Brazilian butt lift surgery
Dr. Gallus performs BBL surgery under general anesthesia in an AAAASF-accredited surgery center or hospital. The surgery usually takes 2-3 hours to perform and is an outpatient surgery, meaning you are able to go home after you recover from anesthesia.
Learn more about AAAASF accreditation.
During surgery, Dr. Gallus will harvest fat from your hips, flanks, thighs, and abdomen using the SAFELipo™ technique. The fat is then purified in a sterile processing device and injected with a small cannula (round tube) in multiple layers to beautifully sculpt and define the shape of the buttocks. The fat is a living graft and will establish its own blood supply to help ensure its survival. Great strides have been made in fat grafting in the last decade and it is reasonable to expect that 60-75% of your grafted fat will survive and provide a robust and long-lasting improvement in your figure.
Click here to view Brazilian butt lift surgery before & after photos »
About Brazilian butt lift recovery
After your surgery (and recovering from anesthesia), you will be able to go home with a responsible adult who can ideally spend the first few days of recovery with you. Some surgical pain is expected, for which you will be prescribed pain medication. You will need to wear a compression garment for 4-6 weeks to ensure a smooth contour in the areas from which the fat was harvested. You will have some swelling and bruising after surgery, but this generally subsides within the first few weeks after surgery.
You will need to stay off your backside for 10-14 days, so make sure you have a comfy place set up and someone to assist with daily tasks. You will be meeting with Dr. Gallus frequently for follow-up visits, and she will help you get back to your normal activities based on your speed of recovery. Keep in mind that most complications come from getting too active too early. During your personal consultation, Dr. Gallus will help you plan the best date for your BBL surgery so as to allow enough time for recovery.
Schedule your Brazilian butt lift consultation today »
Can a Brazilian butt lift be combined with other procedures?
Brazilian butt lift surgery is frequently combined with other procedures, including:
Combining surgical procedures is often very efficient in terms of costs and recovery, as you will already be under anesthesia in a surgical facility anticipating a recovery period. If you are interested in undergoing multiple surgeries, Dr. Gallus will work with you to develop a comprehensive surgical plan that is designed to optimize your results and safety.
FAQ's
Choose Restore SD Plastic Surgery for your San Diego Brazilian butt lift
Board-certified plastic surgeon Dr. Katerina Gallus has over a decade of experience performing Brazilian butt lift surgery. In addition to operating in a fully credentialed facility, we take the time to listen to your goals and partner with you to develop the best and safest surgical plan that will optimize your results and leave you looking and feeling your best.