What is a tummy tuck?
A tummy tuck is a surgical fix that restores the natural anatomic alignment of the abdominal muscles, removes extra skin, and removes some stretch marks on the lower abdomen. It is a common plastic surgery procedure, especially for when pregnancy or aging have really done a number on your abdomen. A tummy tuck surgery is also a common procedure to fix diastasis recti, a separation of the abdominal muscles.

Holiday Surgery Special
20% OFF a Breast Augmentation when you pair it with a Tummy Tuck in December!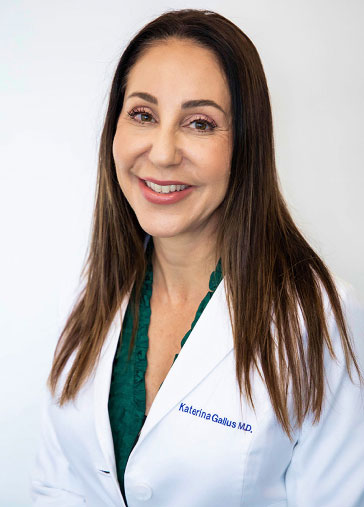 Dr. Katerina Gallus
Dr. Gallus has over 20 years of experience and is a fully credentialed, board certified plastic surgeon. She will partner with you to develop a tailored surgical plan that prioritizes your safety and results.
Am I a good candidate for a tummy tuck?
Good candidates for a tummy tuck procedure:
Have loose abdominal skin from pregnancies or weight loss
Are motivated to maintain a healthy lifestyle with diet and exercise
Do not have a history of blood clotting problems such as DVT or PE
Have a BMI of 30 or less (you can calculate your BMI online)
Have maintained a stable weight for 4-6 months (within 10 pounds)
Want the self-confidence to wear body conscious clothing
Are not taking blood thinners or using nicotine products
Are satisfied with their weight prior to body contouring surgery
Board certified plastic surgeon Dr. Katerina Gallus will determine whether or not you are a good candidate for a tummy tuck on an individual basis during your consultation, since pre-surgical health depends on many factors. "Tummy tuck" sounds cute, but it is a major surgical procedure and not to be considered lightly. Dr. Gallus will discuss your options and partner with you to develop the best and safest surgical plan to maximize your results.
A tummy tuck is a body contouring procedure; it is not designed as a weight-loss operation. If you would like to lose a few pounds or tone up a bit before undergoing surgery, please let us know. Dr. Gallus will be happy to provide referrals for nutrition guidance, medical weight loss, and personal trainers.
What happens during and after abdominoplasty surgery?
During surgery, an incision is made across the lower abdomen from approximately hip bone to hip bone, placed low enough that you will be able to easily hide it with your undergarments or a bikini bottom. An additional small incision is made around your belly button. Through your incisions, your rectus muscles (the six-pack muscles) are tightened, and the excess lower abdominal skin is removed. The remaining skin of your abdomen is carefully re-draped and your belly button is brought out through a small incision.
For some patients, we place a drain in the incision to promote healing after surgery. (In many cases, your procedure can be performed without the need for postoperative drains.) Your incision is meticulously closed in layers, and surgical glue is applied. You will be placed in a post-operative compression garment before you wake up and move to recovery.
Your tummy tuck procedure options
Advances in surgical technique and technology continue to improve the results that are possible with body contouring surgery, and many patients decide to either combine procedures or choose a somewhat different procedure after meeting with us in a consultation.
For most of our tummy tuck patients, we combine liposuction with a tummy tuck to remove unwanted fat and maximize their results (this technique has been used for many years and is considered to be safe.) Dr. Gallus utilizes the SAFELipo technique, which she feels is the safest way of combining liposuction with tummy tuck.
Mini tummy tuck
In addition to a traditional tummy tuck technique, Dr. Gallus offers a mini tummy tuck (also called a limited scar tummy tuck or mini-abdominoplasty), which may be sufficient to reach certain patients' goals.
Every individual has a unique body type that may affect your surgical plan and the final placement of your incisions. We will work closely with you before surgery to ensure we create a surgical plan that is tailored to your lifestyle, your body, and your desired results.
Tummy tuck recovery
Our patients receive careful post surgery care and attention. You'll need to plan on down time after a tummy tuck so that your body has time to heal with minimal scarring. Following our regimen also helps to minimize complications.
Most tummy tuck complications occur from getting too active, too early, so select a surgical date that allows an appropriate amount of time to heal and gradually return to your more vigorous activities. Abdominoplasty is a major surgical procedure, and planning ahead is the best way to ensure you allow yourself enough time to recover. Here is what you can expect during recovery from tummy tuck surgery:
You will need help from a friend or loved one. After surgery is completed, you will be able to go home with a responsible adult. They should remain with you for a few days as you recover. If you have very young children, you will likely need an extra set of hands for a longer period of time.
You will experience some soreness. Your comfort during the recovery process is important to us, and you will have pain medication, a muscle relaxant, and a stool softener prescribed. Prepare for some soreness in your abdomen that should resolve steadily over the first week or two after surgery.
You will wear a compression garment. To improve results and promote healing, you will need to wear your compression garment for 4-6 weeks after surgery.
You will have some restrictions for about 6 weeks. You will be restricted from lifting anything heavier than your purse for the first few weeks. You can shower the first day after surgery, but you cannot swim in the ocean or the pool or soak in a tub for 2 weeks after surgery. You will also need to avoid flying or traveling by car more than an hour or two at a time for the first few weeks after surgery. Most patients continue to make a steady recovery, and you should be able to resume your usual activities within 6 weeks of your abdominoplasty.
Dr. Gallus will be there for you every step of the way. During the first several weeks of your recovery period, Dr. Gallus will see you frequently for follow-up visits, and she will guide you back to your usual activities gradually.
To enhance your peace of mind during recovery, we can arrange for you to hire a private nurse to assist you in the first few days after surgery. Or, some patients may choose to spend a few days recovering in proximity to our office in beautiful La Jolla; o
"I went in for a consultation for a tummy tuck, bbl, and lipo and was very impressed with Dr. Gallus and her staff. She made me feel very comfortable and answered any and every question I had (I had a lot lol). She truly made me feel like she cared about my safety and would do great work to achieve the results I wanted…"
—Actual patient of Dr. Gallus
Surgeries related to tummy tucks
Fleur-de-lis abdominoplasty
Alternatively, if you have lost a great deal of weight, you may desire other more extended body contouring procedures. After weight loss, many patients benefit from a fleur-de-lis abdominoplasty that removes even more skin via an additional vertical incision.
Lower body lift
For patients who have lost a significant amount of weight, it may be desirable to remove excess skin or alter the contours of the body as a final step to better health. For these patients, another option after is a lower body lift, which addresses your torso from all angles.
Combining tummy tuck with additional procedures
To meet your body contouring goals, abdominoplasty may be safely combined with several other contouring procedures, including liposuction, breast augmentation, breast lift, gluteal fat grafting (Brazilian butt lift, or BBL), breast reduction surgery, or gynecomastia surgery (male breast reduction).
Tummy tuck as part of a mommy makeover
After pregnancy in particular, it is common to combine a tummy tuck with a breast augmentation, breast lift, and/or liposuction—this procedure combination is called a mommy makeover. In certain cases, facial rejuvenation procedures can also be performed at the same time as a tummy tuck, including facelift and/or neck lift, eyelid lift, and brow lift.
Tummy tuck for men
Did you know that diastasis recti can affect men? A large weight gain that results in a protruding belly can cause the abdominal muscles to separate. In this situation and others a tummy tuck may be a part of the fix.
During your consultation, Dr. Gallus will review your complete medical history and discuss procedures combinations that can be safely performed together to optimize your results.
View tummy tuck before & after photos »
How much weight will I lose after a tummy tuck?
Tummy tucks are body contouring procedures and are not weight loss procedures. Taking off excess skin and fat can lighten the number on the scale, but that is generally a modest 1-3 pounds. To see the best possible results from your tummy tuck, opt to undergo surgery after you are at a healthy weight and are already committed to a healthy diet and a regular exercise program.
Choose board certified plastic surgeon Dr. Katerina Gallus for your tummy tuck in San Diego
Board certified plastic surgeon Dr. Katerina Gallus holds over 15 years of experience as a cosmetic and reconstructive surgeon. Her priority is taking the time to listen to your goals and partner with you to develop the best and safest surgical plan that will optimize your results and leave you looking and feeling your best. To schedule your personal consultation, call our office at 858-224-2281 or reach out online.
Your Safety = Beautiful Results

Tummy Tuck (Abdominoplasty) at Restore SD

At Restore SD Plastic Surgery, we maintain the highest level of clinical competence and integrity—this means we always place patient safety first. As a board-certified plastic surgeon and former Navy plastic surgeon, Dr. Katerina Gallus only operates at fully accredited, private outpatient surgical facilities located within minutes of our office. She also holds hospital privileges at Scripps Memorial Hospital La Jolla.
---
What should I expect at my tummy tuck consultation?
When you arrive at Restore SD Plastic Surgery to discuss your tummy tuck options, Dr. Gallus will perform a detailed examination, review your medical history, and discuss any medications you are taking. You will have photos taken with our Vectra 3D imaging system, and we will discuss treatment areas and options while viewing your photo series. With our state-of-the-art Canfield software, we will be able to view potential surgical results together, make adjustments, and help you to visualize possible outcomes.
Tummy Tuck FAQ
How do I choose a surgeon?
The American Board of Plastic Surgery is one of 23 members of the American Board of Medical Specialties (ABMS). These specialties represent the traditional core of fully trained specialists. Alternative boards have cropped up over the last several years to lend legitimacy to incompletely trained or poorly trained practitioners. Accept nothing less than a surgeon certified by the American Board of Plastic Surgery and who is a member of the American Society of Plastic Surgeons (ASPS) and the American Society of Aesthetic Plastic Surgery (ASAPS).
How much time off work should I take after a tummy tuck?
Depending on your profession, you should expect to take a few to several weeks off from work. You will not be able to lift anything heavier than 10 lbs. or perform strenuous activities for 2 weeks following surgery. You will not be able to drive while taking narcotic pain medication and should plan to have a friend or family member drive you to and from appointments during the early recovery period.
How do I minimize post-operative scarring after tummy tuck surgery?
We recommend protecting your scars from the sun (which can darken scars), scar massage, scar cream, and treatment at our office with the fractionated CO2 laser device. A surgical scar will take 9-12 months to fully mature, and unfortunately, scarless surgery does not yet exist. Your scar will go through changes during the healing process; rest assured that Dr. Gallus and your Restore SD team will educate you about postoperative scar management and help you manage this part of your recovery.
What should I do to prepare for my tummy tuck?
On the day of surgery, remember to have your recovery space prepared and plans for a loved one or friend who will stay with you after surgery. And be sure to wear a button-down, front-opening shirt so that your post-operative experience does not include wrestling a shirt over your head!
I am a smoker—can I have a tummy tuck?
At Restore SD Plastic surgery, we pride ourselves in delivering safe, consistent, and reproducible results. As such, we recommend a nicotine-free period of 8 weeks prior to surgery and a minimum 4 weeks after surgery. We perform a simple urinary nicotine test in the office to help you on your journey to a safe and gratifying surgical experience with us.
I have diabetes—what do I need to know about having a tummy tuck?
If you have diabetes it is important to work with your medical team to maintain an ideal HbA1C. Diabetes can increase your risk for prolonged wound healing and certain types of infections. Surgery can be safely performed, but it requires a coordinated effort from patients, surgeons, and medical doctors to attain outstanding results. There are some instances where Dr. Gallus may want to postpone surgery until your diabetes is under better control.
How soon can I travel after abdominoplasty surgery?
Having surgery means a commitment to an appropriate recovery. We recommend scheduling your surgery at a time that allows enough time to recover and gradually return to your normal activities. Flying, driving long distances, or leaving the immediate area are not recommended until you have been cleared by Dr. Gallus. If you have specific travel needs or require advice for emergency travel soon after a procedure, please let us know and we will be glad to discuss the details with you.
What happens to my belly button during a tummy tuck?
Your belly button stays right where it is during surgery. The upper abdominal skin is pulled tight, and after the excess skin is removed and the initial closure started, a small hole is cut in the middle of the abdominal skin to bring your belly button through the opening. It is inset with absorbable sutures. If you have a belly button hernia, that can be fixed within the same operation.
Will I need to wear a drain after my tummy tuck?
We try our very best to perform all tummy tucks without a drain, but we don't hesitate to use them if it is the best and safest course of action to optimize your result and safety. For example, if liposuction is a significant part of your body contouring procedure, then you are more likely to need to wear a drain.
Can liposuction and tummy tucks be combined?
Liposuction and tummy tuck are often combined to yield a more comprehensive, dramatic result. We utilize the SAFELipo™ technique that maximizes results and safety. The hips, flanks, and thighs are the most common body areas treated at the same time as tummy tuck surgery.
What if I get pregnant after a tummy tuck?
Many normal, full-term pregnancies have been reported after tummy tuck surgery. If you become pregnant after having a tummy tuck, please let your OB/GYN know and contact us with any questions or concerns. Pregnancy may stretch out your muscles and skin again, and touch-up surgery after pregnancy may be desirable to get back to your ideal look.
---
Tummy Tuck Video Education
Dr. Gallus and Dr. Greer discuss everything tummy tuck, including good candidates, procedure combinations, and recovery from abdominoplasty.
Video transcript

Abdominoplasty surgery is a very powerful body contouring surgery that removes excess skin and fat from the lower abdomen. In many cases muscle repair is also performed which facilitates a smoother, firmer, more toned and proportionate abdominal contour. Patients who are seeking abdominoplasty come in with several reasons: most commonly in women of childbearing age it's from having one or more pregnancies that have stretched out the lower abdomen and the muscles. Patients who have lost quite a bit of weight are also good candidates and for some people just the normal aging process and heredity can be contributing factors that make them good candidates for abdominoplasty.

The steps for abdominoplasty involve making a low incision transversely roughly hip boned hip bone and an extra incision is usually needed around the belly button to facilitate optimal skin stretching and excision. The skin and subcutaneous tissues are then lifted when those steps are done, we evaluate the abdominal musculature and if stretched out from pregnancies or from weight loss repair the muscles to tighten and firm the abdomen.

After those steps are completed the excess skin is removed and excised and then the incisions are closed. Sometimes we use small drains little plastic tubes underneath the skin to help evacuate any fluid or blood that might collect. When the incisions are closed we put dressings on and put the patient in a post-operative compression garment to help with healing and to keep the swelling down.

The recovery from tummy tuck surgery can take several weeks the first couple weeks are spent with the patient and a slightly bent position to avoid having extra stress on the healing wound. After the first couple of weeks patients are usually more active they're not taking as much pain medicine and they're starting to resume their usual activities. If drains are used they're usually removed within the first week to two weeks after surgery and patients continue to wear the compression garment for a couple of days after the drains are removed.

I enjoy being able to wear clothes that I wasn't able to fit into before, not worry about tightness around my waist when I'm wearing pants, and not seeing like rolls, and I just love that I can look down and see my feet.

When arriving for a consultation it's important to ask your surgeon several questions. Those questions would be are you if certified by the American Board of Plastic Surgery are you a member in good standing of the American Society of Plastic Surgeons. Where is my surgery going to take place, will it be in an accredited facility? What are the outcomes and expected recovery times that I'll have from this procedure.
Tummy tuck blog posts