Experience The Diamond Glow Difference
Exfoliation with Diamond Glow
Specialized dermabrasion techniques are used to remove dry, damaged skin cells
Infusion
Delivery of condition-specific serums deep into the skin
Volumizes skin
Improves Skin Radiance and Revives dry and sun-damaged skin
Visibly Reduces Fine Lines, Wrinkles, and Sun Damage
Targets Skin Concerns and Optimizes Results
Gives a Lasting Youthful Boost
Stimulates Healthy Cell Renewal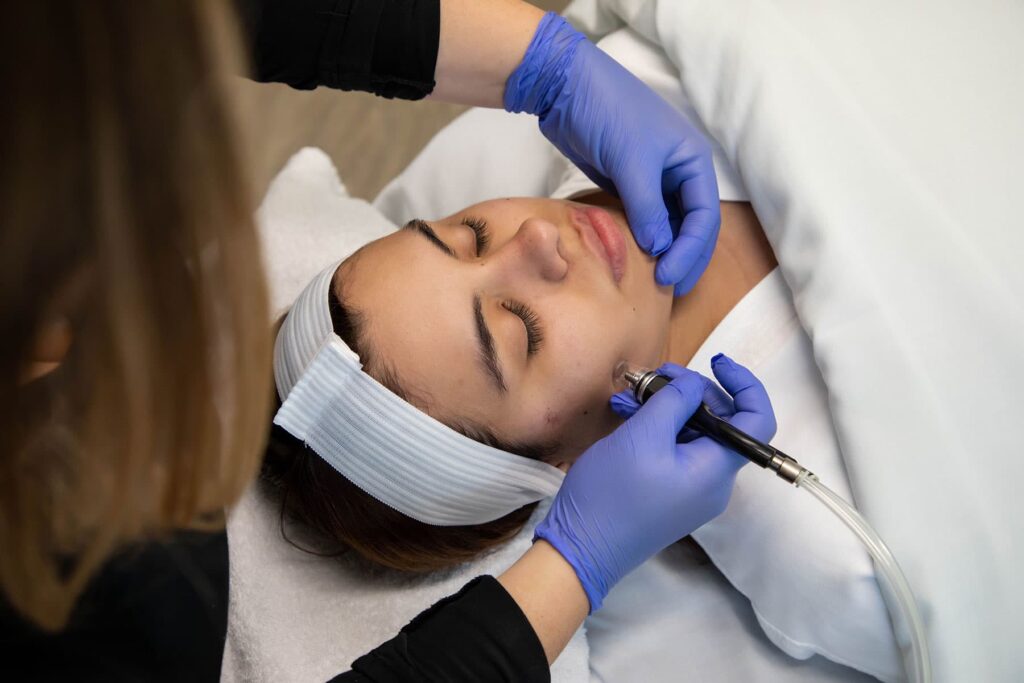 What conditions can be treated with Diamond Glow?
Hyperpigmentation
Melasma
Acne
Sun Damage
Post-Inflammatory Hyperpigmentation (PIH)
Aging skin with fine lines and wrinkles
Sallow skin
Dry, flaking, dehydrated skin
Enlarged pores, oily, or congested skin
Rough skin texture
Fine skin around the eyes and lips
Body areas that can be treated with Diamond Glow
Décolletage – treat sun damage, fine lines, and wrinkles
Stretch marks on the abdomen or breasts
The appearance of cellulite
Bumps, dryness, and discoloration on the arms, knees, or elbows
Dryness or cracking of the hands and feet
Back acne
What are the types of Pro-Infusion serums?
Hydrating
Vitamin C
Skin Brightening
Pore clarifying




---
Frequently Asked Questions about Diamond Glow
Why is Diamond Glow the best choice for me?
Diamond Glow is the Gold Standard in medical aesthetics for skin treatment. The wide variety of serums allow different skin conditions to be targeted at different times. Need a treatment after vacation – use the Hydrating serum. Need to brighten up dull skin – try a Vitamin C or Skin brightening serum. Treating congested or oily skin – use the Pore Clarifying serum. Whether you are getting a single treatment to get ready for a big event or using a series of treatments to address specific concerns, there is a customized treatment plan that can be put together just for you.
How is Diamond Glow different than HydraFacial?
At Restore SD Plastic Surgery we did our research and chose the Diamond Glow system. The variable textures of the diamond particles provide a more consistent and customizable treatment than the plastic tip of the HydraFacial device. The exfoliation provided by the treatment allows the precision timed delivery of serum for maximum penetration and results, thus eliminating the time gap between skin exfoliation and serum application. We have all had treatments from both devices and there is a clear superiority in the results provided by the Diamond Glow system.
How often can I get a Diamond Glow treatment?
For patients who are getting a series of treatments for a certain condition, Diamond Glow treatments are performed on a regular basis in a series of treatment sessions. For general skin health and wellness, one treatment every four weeks may be recommended.
Can I buy more than one at a time and save some money?
Yes! Because a series of treatments is an investment in your skin health, we have special package pricing that provides significant savings over single treatment pricing.
Will Diamond Glow help my complexion?
As part of a comprehensive skin care regimen, a Diamond Glow treatment will have a positive and durable impact on your skin's appearance and health. Because skin conditions require maintenance over time, it is recommended to consult with your Restore SD Plastic Surgery skin care professional to determine a maintenance program this is best suited for you.
Does Diamond Glow help with acne?
Treating acne for both adults and teenagers is often frustrating, and Diamond Glow could be part of an ongoing acne treatment program for both maintenance therapy and untimely breakouts. Diamond Glow treatment should be part of a comprehensive acne treatment plan that may include oral medications as well as topical skin care.
Is there any down time with a Diamond Glow treatment?
Diamond Glow is an in-office treatment that has no set downtime. Once your treatment is done, you can return to your daily routine looking better than ever! However, minor side effects like a scratchy, stinging sensation during the treatment and temporary tightness, redness or slight swelling might appear. Many of our patients get a treatment the day before a special event so that their skin is plump, hydrated, and smooth.
Does Diamond Glow help with laser or surgical results?
Yes – laser resurfacing with the Carbon Dioxide laser is significantly improved with pre-treatment with Diamond Glow. The target for the CO2 laser is water molecules – a Diamond Glow treatment just prior to the laser procedure provides fully hydrated skin and allows the laser to provide a uniform treatment depth. After a facelift, a Diamond Glow treatment helps the skin heal and accelerates the turnover of dry and damaged cells after surgery.
How soon can I wear makeup after a Diamond Glow treatment?
If you need to put on some makeup to return to work, it is perfectly fine, but the best option is to not put on makeup again until the morning after your treatment.
Do I need to wear sunscreen after a Diamond Glow?
Sunscreen is always a good idea and it is important to protect your skin after a Diamond Glow treatment. After your treatment is complete, our aesthetician will apply sunscreen for you as part of the treatment. Sunscreen is part of a healthy skin care regimen and will help protect the investment that you are making in strengthening and improving your skin's appearance – make it part of your daily routine!
Who performs the Diamond Glow treatment?
At Restore SD Plastic Surgery, the Diamond Glow treatments are performed by a licensed medical aesthetician. Our aesthetician treatment room is a peaceful and tranquil space that allows you to have that "pampered" feeling before, during, and after your treatment.
How long does it take to have a Diamond Glow treatment?
A full-face Diamond Glow treatment may take under an hour to complete, but it all depends on the unique case. Treatment of other body areas may take longer.
Will a Diamond Glow facial improve my melasma?
Melasma is a frustrating medical condition and is notoriously difficult to treat. There is no true cure for melasma, but it can be effectively managed with a variety of medications and treatments. Diamond Glow treatments can greatly aid in the effective management of melasma along with hydroquinone, sun protection, and IPL or Q-Switch laser treatments. We offer the full complement of these treatments, so please let us know how we can help you manage your melasma.
What is different between a Diamond Glow treatment at a spa and in the plastic surgeon's office?
You may see Diamond Glow treatments offered at some Medical Spas for prices lower than physician's offices. The reason is simple – the treatments are not the same. By California Medical Board regulations, spas are not able to perform full facial treatments and cannot carry the full variety of treatment serums. The medical grade serums are only available in physician offices and may only be performed by licensed medical aestheticians.
Can I get Botox or Filler on the same day as my Diamond Glow treatment?
Absolutely! Diamond Glow treatments are part of many patient's beauty maintenance routines and they will often combine their treatments with Botox or filler at the same visit. The team at Restore SD Plastic Surgery will make sure you receive treatment combinations that are safe and effective and will make sure you understand all the steps needed to get the best results.
---
Schedule Your Visit!
Call 858-224-2281 or Come in to see the professionals at Restore SD Plastic Surgery for a full and complete treatment that will have you looking your best!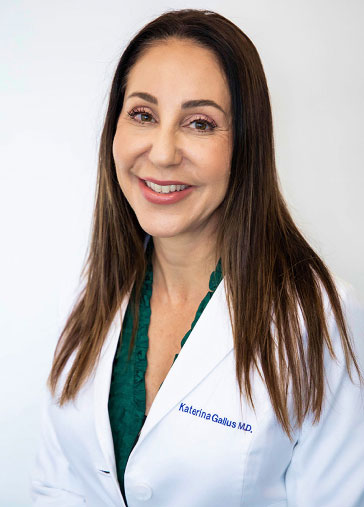 Dr. Katerina Gallus
Dr. Gallus has over 20 years of experience and is a fully credentialed, board certified plastic surgeon. She will partner with you to develop a tailored surgical plan that prioritizes your safety and results.