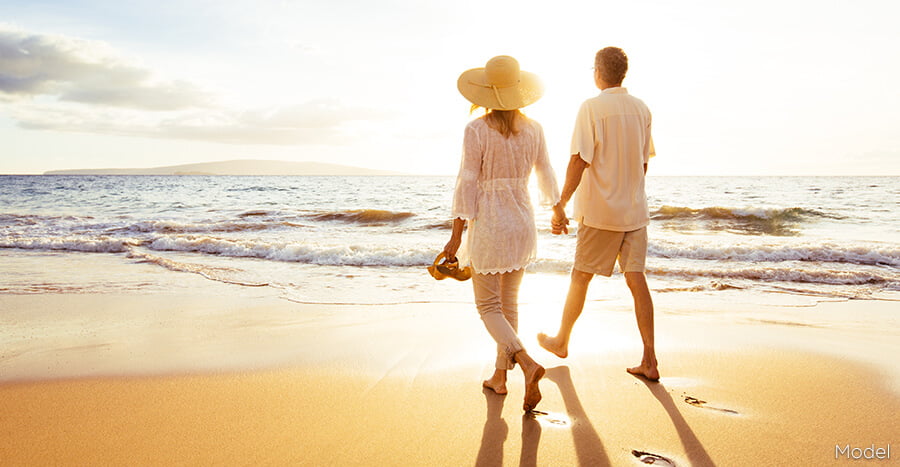 At Restore SD Plastic Surgery, we want to get to know you and our Virtual Consultations are a great way to get started. Please click the "Virtual Consultation" button on our procedure pages or call the office at 858-239-2486 to request a Virtual Consult. Through the Virtual Consultation process, we can develop a customized treatment plan that is best suited to your individual features, aesthetic goals, and recovery timeline.
Because a Virtual Consultation is not a substitute for an in-person consultation, it is important to provide a detailed medical and surgical history through our HIPAA compliant patient portal so that we can identify any issues that may need to be addressed prior to your procedure. Through our HIPAA compliant communication system we will work with you to exchange information, photos, and price quotes so that there are fewer chances for surprises when you come to the office for your preoperative visit.
How to set-up a "Virtual Consultation" at Restore SD Plastic Surgery
Click on the "Request Virtual Consultation" bar on the right side of many of the procedure pages. Fill out the requested information and upload any photos that you would like to submit for review. Please provide your preferred contact information to facilitate communication with our office.
Our patient coordinator will review your request with the doctors and respond to you no later than the next business day. After the initial review, a Virtual Consultation may be scheduled, or additional information requested. We are happy to coordinate with your primary care manager if imaging or laboratory studies are needed as part of your evaluation. To be compliant with telemedicine laws, we will ask you to provide a government issued ID card (driver's license or passport) to verify your identity prior to the consultation.
After the consultation with the doctor, our patient coordinator will provide you with any additional information, to include accommodations, financing options as well as the next steps in the scheduling process.
Two weeks before surgery, the Restore SD patient coordinator will contact you to review important items such as preoperative guidelines, postoperative care and medications or supplements to discontinue. Payment of your surgical balance is also due two weeks prior to surgery.
After the Virtual Consultation
To enjoy the best possible experience, the Restore SD surgeons prefer that you arrive in San Diego at least one or two days before any planned procedure. This will give the Restore SD team the opportunity to meet with you, perform a thorough in-person evaluation, and address any questions you may have. In most cases, we can combine an in-person visit to confirm the surgical assessments followed by the surgical procedure on the next day. Based on the in-person evaluation, surgical plans and fees may need to be adjusted to offer the safest and best outcome. We make every effort to be as accurate as possible during the Virtual Consultation but may need to make minor adjustments once the in-person evaluation has been completed.
After the Surgery
Restore SD Plastic Surgery has negotiated "recovery" rates with many local hotels, and we'd be delighted to help you with those arrangements. Allow us to assist in selecting the best accommodations to satisfy your needs during your stay. Additionally, we can arrange to have a specially trained nurse can personally assist with your recovery, if necessary.
Generally, patients visit the office the day after surgery and several times within the following 10 days to 2 weeks depending on the nature and complexity of the procedures performed. At Restore SD Plastic Surgery, we remind our patients that they should allow for enough recovery time. Adequate recovery time varies depending on the procedure and the required aftercare. Most patients usually stay in the San Diego area between 5 – 21 days after surgery. You may rest assured that your aftercare will continue after you return home. The Virtual Consultation platform allows the team to guide you in the recovery process and scar care.
Considerations for Out of Town Patients
At Restore SD Plastic Surgery, we welcome our out-of-town patients and want to make your visit as smooth and pleasurable as possible. Our practice is in the beautiful La Jolla area just north of downtown. For those patients arriving from out-of-town, the closest commercial airport is San Diego International Airport (SAN), a 15-20-minute drive from our office.
The surgical suites utilized by Restore SD Plastic Surgery are selected with the utmost safety in mind. The facilities are all fully certified by the American Association for Accreditation of Ambulatory Surgery Facilities (AAAASF). To ensure the highest level of care and safety, all surgeries are performed under the supervision of board-certified anesthesiologists or experienced Certified Nurse Anesthetists.
For Friends and Family
San Diego is a beautiful location year around and enjoys a temperate climate that offers a peaceful and tranquil environment for recovery, healing, and relaxation. There are a great many things to do in San Diego while your friend or loved one recovers from surgery. Please let us know your interests ahead of time and we will utilize our social network to help you enjoy the many activities and fine dining experiences that the area has to offer. As long-time San Diego residents and members of the community, we can help point you in the right direction!
We are glad you have considered Restore SD Plastic Surgery and welcome all questions regarding costs, recovery, and the anticipated length of stay for healing, recovery, and aftercare. Our practice has been finely honed to deliver world-class results while making certain your entire experience is as safe, discreet, and comfortable as possible.