Restore SD Plastic Surgery is excited to offer Alastin® Skin Care for our patients.  We have been selected as one of only two practices in San Diego to be Alastin® Ambassadors.  As a top Alastin® Skin Care practice, Restore SD Plastic Surgery is privileged to have access to the latest technology and exclusive educational opportunities that we can share with our patients in pursuit of optimal skin health.
Ask Me Why I Love Alastin®!
Alastin® skin care scientists developed a patent-pending TriHex Technology® that enhances the health of the skin by helping to clear impaired, aged proteins. The Alastin® Skincare line contains a blend of peptides and botanicals specifically engineered to work with your skin to clear old collagen and elastin that have been damaged by sun exposure and aging.  The technology also supports the production of new elastin and collagen, reduces inflammation and strengthens the skin.
Our Favorite Products
Restorative Skin Complex
This daily use rejuvenation serum is designed to be an all-in-one product that supports the skin's production of healthy collagen and elastin. It also contains peptides and botanicals to restore volume and plump thinning skin, improve the appearance of fine lines and wrinkles and even out skin tone.  Additionally, it contains antioxidants to help protect against further sun damage. This revolutionary formula is the key to a healthier complexion and glowing skin and should be the foundation for your daily anti-aging skin care routine.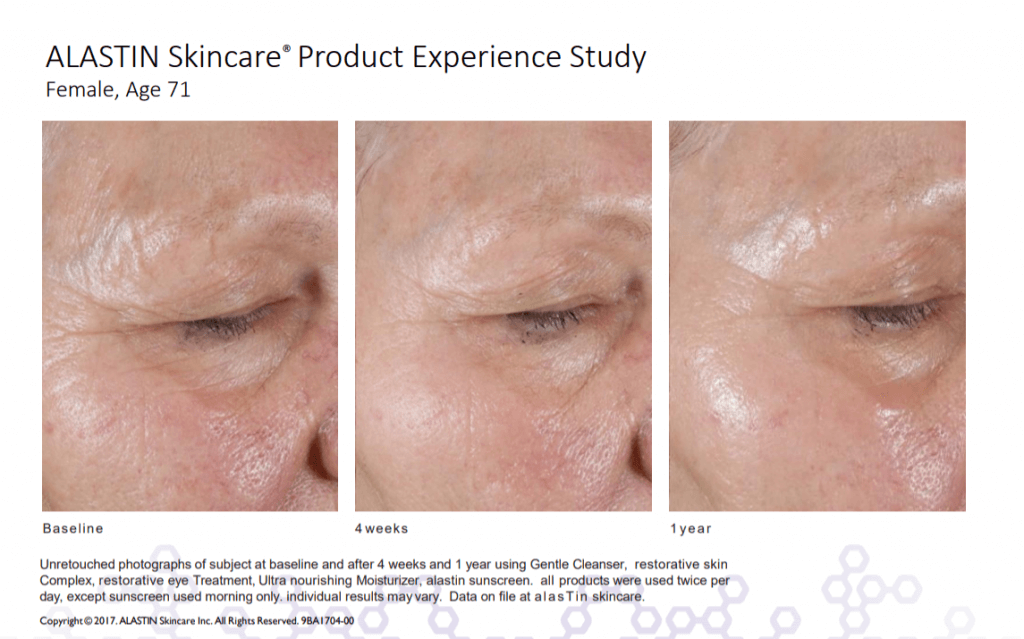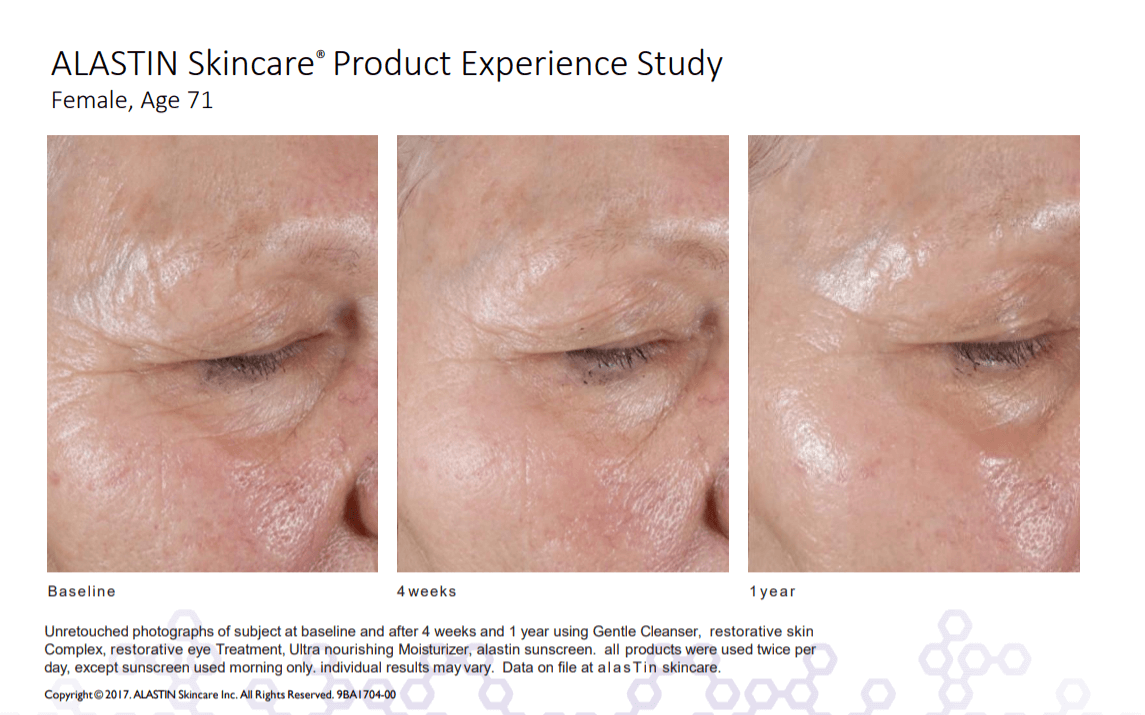 The Alastin® Skincare Procedure Enhancement System
We use this system with every CO2 Laser patient! This kit is specifically formulated to accelerate results from ablative procedures while strengthening fragile compromised skin, minimizing risk of complications, and supporting your recovery process. Post treatment care is the most critical aspect of the healing process. It is so important to support healing skin through the recovery process for superior outcomes.  Before you rejuvenate, PREjuvenate to prime your skin for amazing results.  We recommend starting the kit 2 weeks pre-procedure to ensure the best results and fastest recovery possible.

This clinically proven system includes these 5 products:
Regenerating Skin Nectar with TriHex Technology®

A proprietary formula designed to support the skin before, during and after cosmetic procedures to include laser resurfacing, chemical peels and micro needling. This product enhances healthy skin by helping to clear damage and debris in the extracellular matrix.  It also supports the skin's natural ability to produce new, healthy elastin and collagen.  It contains anti-oxidants in a special formulation to reduce the appearance of redness and accelerate the healing process post procedure.
Gentle Cleanser

Gentle, self-foaming cleanser that is specifically designed to remove the Recovery Balm used after laser treatments. It is effective in removing environmental pollutants and make-up while it softens and calms the skin.
Ultra-Nourishing Moisturizer with TriHex Technology®

Hydrating moisturize that contains a unique combination of peptides and key botanicals to nourish and hydrate the skin.
Fragrance-free, paraben-free and oil-free.
Soothe + Protect Recovery Balm

A highly emollient formula that helps to restore the barrier function of the skin after cosmetic procedures
Contains natural plant extract to calm the skin and reduce redness.
Broad Spectrum SPF 30+ Sunscreen

A moisturizing sunscreen that is formulated with hydrators, antioxidants, and phyto-nutrients.
Provides broad spectrum UVA/UVB sun protection.
Water resistant for 80 minutes
Need to order more? Come in to see us or order via our on-line Alastin store.
If you have skin care concerns or want to maximize your non-invasive skin rejuvenation results, come in for a consultation at Restore SD Plastic Surgery and learn more about our Alastin® Skin Care products.