When scrolling through social media you can be easily overwhelmed by all the latest and greatest offers of must-have skin care products promising to deliver clear and radiant skin. So how do you decide which serum or moisturizer is going to be your new favorite? By knowing the key ingredients for healthy and glowing skin. We all have skin care concerns – whether you are treating breakouts, addressing hyperpigmentation, or trying to erase fine lines and turn back time. Let's break down the five skin care staples worth including in your daily regimen.
#1 Sunscreen – Just Do It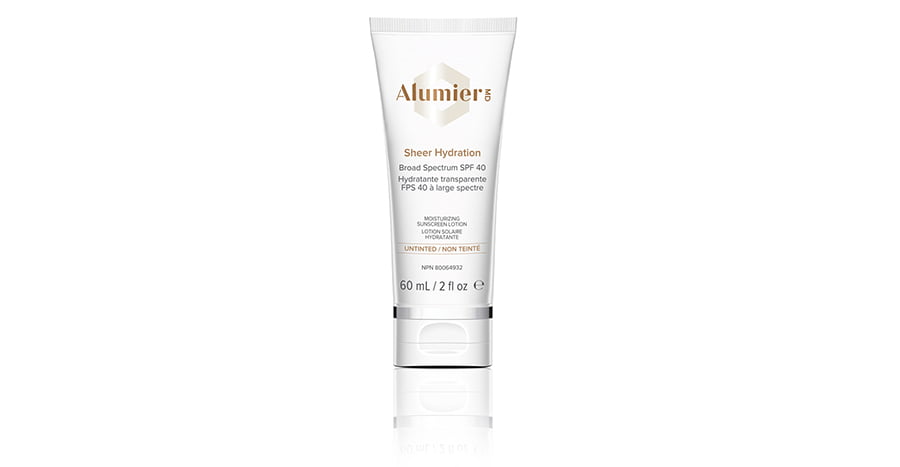 Sunscreen should be the foundation of everyone's skin care regimen. Applying expensive serums and peptides but not adequately protecting your skin from daily rays is the equivalent of running 5 miles every day followed by a couple of cigarettes. And – to answer your next question – just having a makeup foundation or BB cream with sunscreen is not enough. In order to adequately protect your face from the sun's warming but harmful rays, a dime size amount of broad-spectrum sunscreen should be applied daily. And then reapplied after every 2 hours of sun exposure. Are you just going to the office? Apply sunscreen! Most of my patients are surprised to see that on clinical assessment with our 3D Vectra Camera the left side of their face has more pigmentation damage then the right. This is because of the additional sun exposure you get while driving. Yikes. One of our favorites is AlumierMD Sheer Hydration Broad Spectrum SPF 40 which provides physical protection with zinc oxide and titanium oxide as well as nourishing the skin with free-radical blasting antioxidants. So, don't bother with the rest of the list until you commit to sunscreen.
#2 Exfoliate – Shine bright like a diamond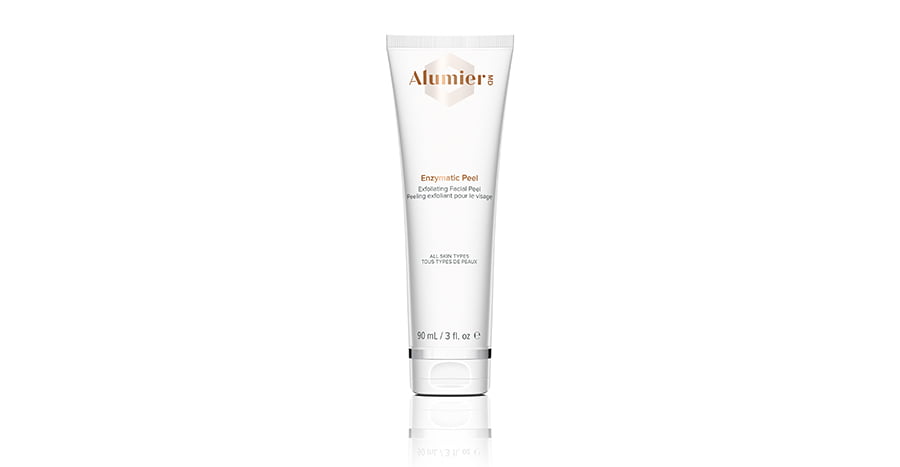 Another fun fact about aging, you slow down the process of shedding skin – which can lead to dry patches, clogged pores, fine lines and hyperpigmentation. Helping your skin get rid of the outermost layer that has been damaged by pollution and sun exposure helps renew your skin's surface. Additionally, removing that outermost layer on a regular basis will allow the other skin care must-haves to penetrate deep into the dermis and have the most effect. You can maximize exfoliation with an in-office treatment such as microdermabrasion – the DiamondGlow Peel™ or chemical peels such as ZOⓇ 3-Step Peel™. In between scheduled treatments you should be using an alpha or beta hydroxy acid cleanser to aid in exfoliating as well as consider using a gentle scrub 1-3 times per week. Want more? You can maximize effects with an at home enzyme treatment. We love the AlumierMD Enzymatic Peel – combining lactic acid and fruit enzymes to exfoliate those dead skin cells and reveal your glowing healthy skin underneath.
#3 Vitamin C – The Holy Grail of Skin Care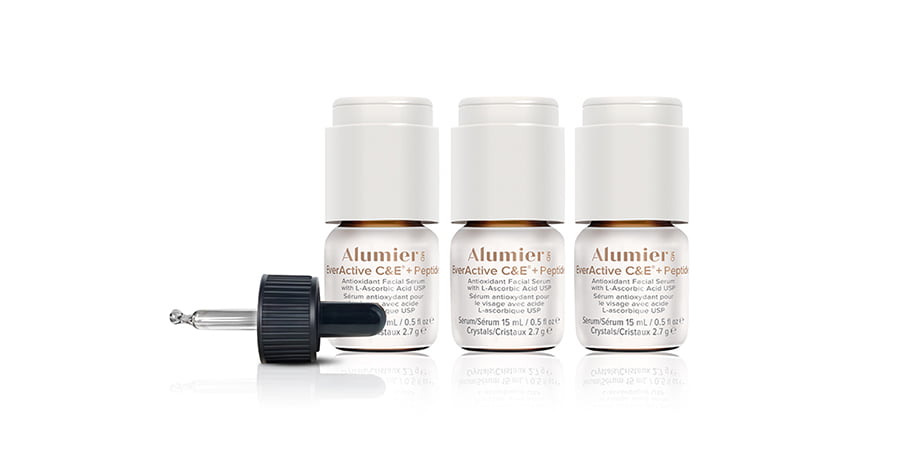 This is our Medical Esthetician's FAVORITE skin care ingredient. Vitamin C is a potent antioxidant that helps brighten the skin and fight off the damaging effects of daily exposure to pollutants and UV radiation. But Vitamin C is a tricky ingredient to get formulated correctly – the active, L ascorbic acid, is unstable and easily breaks down when exposed to light or heat. If you are using it as a serum you will notice the bottle is always dark-colored. This is to protect this powerhouse ingredient from light in order to maintain its stability.
Our favorite serum is AlumierMD EverActive C&E + Peptide. It contains a powerful 15% concentration of L-ascorbic acid and boosts its antioxidant properties with Vitamin E. The Vitamin C is in powder form and kept separate until you are ready to use – keeping the antioxidant optimally active. This amazing serum also includes a peptide – Matrixyl™ Synthe® '6 – another ingredient that makes our list. The triple-threat combination of EverActive C&E + Peptide will help your skin in its natural regeneration process to create a brighter, smoother complexion. We recommend that you use a Vitamin C serum every AM after cleansing your skin. And don't forget to bring the serum down to cover the neck and décolleté. This skin care ingredient is key to revitalize dull or damaged skin and reduce the signs of aging.
#4 Peptide – Give Me Strength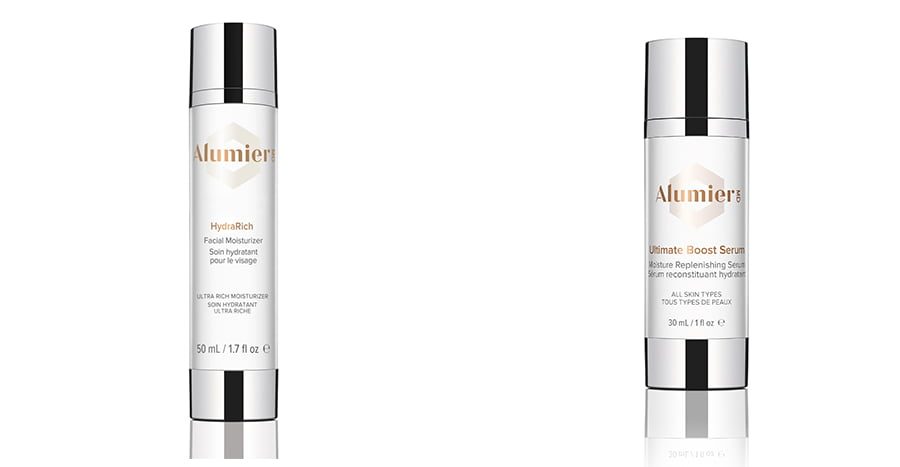 Another must-have for your skin – peptides. These short chains of amino acids help form the building blocks of your skin – elastin, collagen and keratin. Peptides are responsible for maintaining your skin's strength and elasticity. We start to lose approximately 1% of our collagen per year after age 30 – peptides help to signal the skin to make more collagen.
Naturally, not all peptides are created equal – it must have a mechanism for delivery and science to show its effectiveness. One of the MVPs of the peptide world is Matrixyl™ Synthe® '6. Clinically proven to stimulate the production of the major components in the skin – 3 types of collagen, fibronectin and hyaluronidase – this ingredient rebuilds your skin from within. Our most popular serums and moisturizers in the AlumierMD line contain Matrixyl™ Synthe® '6 – our favorites include Ultimate Boost Serum, and HydraRich Moisturizer. Peptides in these products are critical for hitting reset on wrinkles, texture issues and elasticity. Apply daily for the ultimate moisturizing experience.
#5 Retinol – Turn Over a New Leaf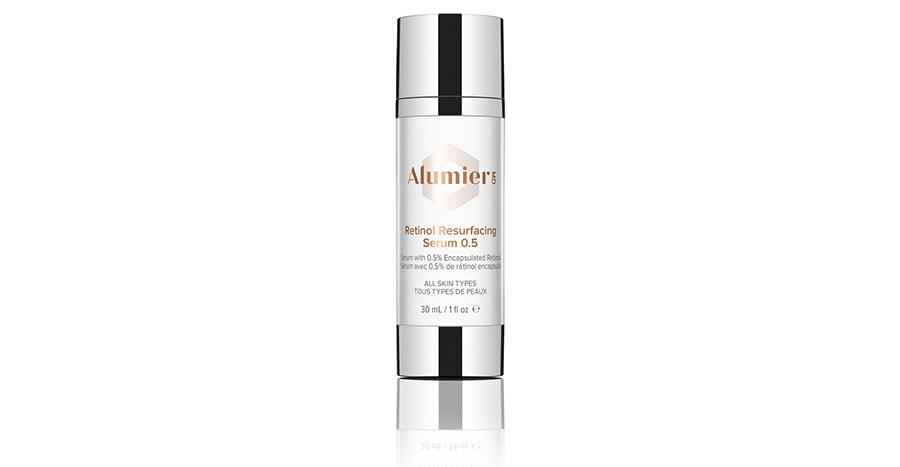 Retinol is a Vitamin A derivative that helps reverse sun damage and signs of aging. Tretinoin, its prescription-strength sister, is the gold standard for increasing skin turnover; however, most of us give up on using it after a week or so because of the side effect of irritated and flaking skin. Both tretinoin and retinol help decrease fine lines, even skin color, improve texture, tighten pores, and stimulate blood flow and collagen production. Retinol is a gentler form and is best microencapsulated so to allow for a slow release. This slow delivery system minimizes the side effects while allowing your skin to reap the benefits. Because retinol encourages skin cell turnover your new skin is delicate and may be more sensitive to the sun. For that reason, it is generally recommended that you use this key ingredient at night. The benefits of retinols are long-lasting which is why this key ingredient is the go-to for achieving and maintaining results. AlumierMD Retinol Resurfacing Serum 0.5 is our most popular strength, but we offer many different concentrations and prescription tretinoin to meet your Vitamin A needs.
Want to learn more?
At Restore SD, we are passionate about providing our patients with products that promote healthy and radiant skin. That is why we have partnered with AlumierMD to bring you results-oriented skin care products that are created with clean science. AlumierMD skin care is paraben, sulfate and dye-free and comes in recyclable packaging. The ingredients are dosed with effective levels to ensure you are getting optimal results. If you want to feel great about the skin care you are using, then this line is the clear and clean choice.
Who doesn't want radiant, glowing skin? Now is the time to give your skin the attention it deserves. That's why we are offering a free skin care consultation. We'll discuss your skincare goals and outline an easy-to-follow skincare regimen that harnesses the power of clean science through AlumierMD to deliver visible results.
Already know what you need. Log on to our exclusive patient portal where you can shop all your skincare needs and receive complimentary shipping. It's that easy – great skincare + free shipping. You glow girl.