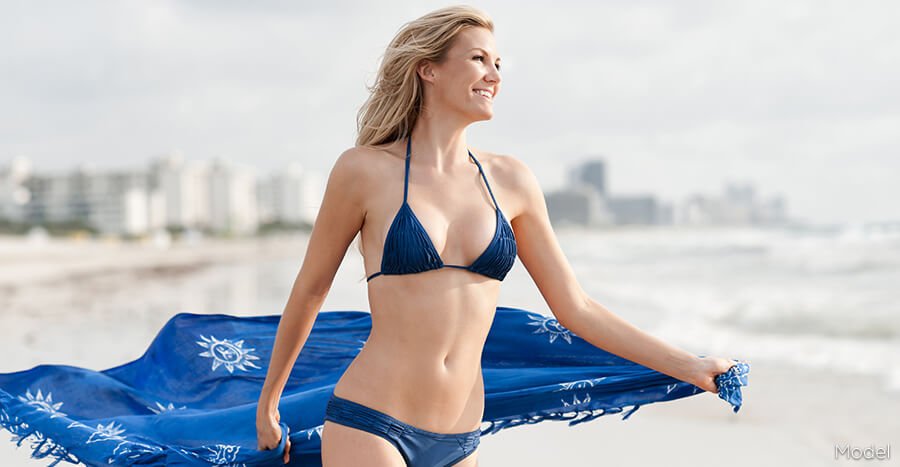 There is no getting around gravity! Over time your breasts can reveal the effects before other areas of the body. Weight loss and pregnancy can accelerate the process. The medical term for the resulting breast sag or droopiness is ptosis. In breast ptosis, the breast tissue and skin may droop to the point where the nipple and areola (the pigmented area around the nipple) may fall below the lower crease of your breast. Sometimes the nipple and areola are on the lowest part of your breast and point to the ground.
Breast lift surgery, also called Mastopexy, removes the excess stretched-out skin to reshape and reposition your breasts and correct the ptosis. The goal of breast lift surgery is to create a natural looking, lifted breast that restores your confidence.
If you desire fuller breasts, then a combination breast enhancement surgery may be the best surgical plan for you.
---
The Best Candidates
Are not taking blood thinner medications or using nicotine products
Are not pregnant, breastfeeding or planning to have children in the immediate future
Have nipples below the lower crease of the breast or pointing downwards
Have breast ptosis (sagging) but are happy with breast size
Are healthy and a stable weight
If you are over 40 years old or have a strong family history of breast cancer, your Restore SD surgeon will recommend a mammogram before surgery.
The Options
Breast lift surgery can be performed in several ways. The most common techniques offer a safe and reliable method of lifting the breast that is tailored to your body and your desired results.
Anchor Incision Breast Lift:
The most frequent technique employed by Restore SD surgeons is the anchor-type incision. The anchor pattern includes an incision around the areola that extends vertically down and connects to a horizontal incision that is hidden in the lower breast crease. Using the anchor pattern allows for maximal skin removal and powerful reshaping of the breast.
Vertical Breast Lift:
Another common technique is the vertical breast lift. This is also sometimes referred to as a short-scar or limited-scar breast lift. This surgery limits the incisions to a "lollipop" type incision. The incision extends around the areola and vertically down to the lower breast crease. It does not include the horizontal lower breast crease incision. This technique is best for women who have minimal skin excess but still require a lifting of the nipple and areola.
Circumareolar Lift:
A circumareolar incision is a type of lift that is performed via an incision that is limited to the area around your areola. This limited incision is used when repositioning the nipple areola complex only 1 -2 cm. This is often done in circumstances where symmetry (matching the opposite breast) is desired or in combination with other breast enhancement surgeries. This technique can also be used to reduce the size of large areolae to a size that won't be revealed in bathing suits or bras.
The Surgery
Breast lift surgery is performed under general anesthesia to offer maximum comfort and safety. We perform all surgeries at an accredited outpatient surgery center or hospital. The surgery usually takes 2 – 3 hours depending on your starting breast size and individual surgical plan. Your Restore SD surgeon will carefully mark planned incisions to properly reposition your nipple and areola and review the final plan with you to ensure there are no last-minute questions. After anesthesia is administered, your surgeon will make incisions and remove the excess breast skin while carefully preserving the blood supply to the nipple and areola. Once the excess skin is removed, the breast tissue is reshaped to a more youthful contour and the nipple areolar complex is repositioned. Liposuction may be used to improve the shape of your new breasts or remove extra tissue on the side of your chest. In some cases, a drain is placed. The incisions are then closed using absorbable suture. There will be no external sutures to remove later. Surgical dressings are applied and you will be placed in a post-surgical compression bra. You will need to wear this bra or a similar front-opening sports bra for the next few weeks.
The Recovery
After surgery is completed you will be able to go home with a responsible adult. Ideally, this loved-one or friend will be able to stay with you during the first few days of recovery. Some surgical pain is expected and treated with pain medications. Initially the area around the nipple and most of the breast skin is numb but sensation returns over the next few months. Most women can return to work after 1 – 2 weeks. Normal daily activities like showering, eating and light activity such as walking can be resumed within 24 hours after surgery. Some post-operative swelling is normal and generally resolves within the first 4-6 weeks after surgery. You should refrain from intense physical activity for 4 weeks. During the recovery period, you will have follow-up with your Restore SD surgeon and will be guided back to your usual activities. Most complications occur from getting too active too early, so select a surgical date that allows an appropriate amount of time to heal and gradually return to your more vigorous activities.
Commonly Combined Procedures
Breast lift surgery can be combined with other breast enhancement techniques. It is most often combined with breast augmentation in patients who desire fuller breasts in addition to lifted breasts. Breast lift surgery can also be safely combined with other body contouring procedures such as abdominoplasty (tummy tuck) or liposuction of other body areas.
---
FAQ's