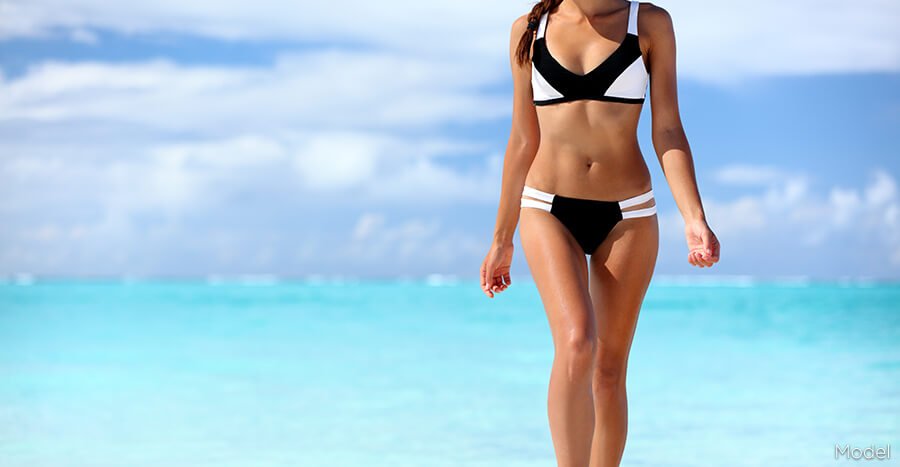 Thigh lift is one of the many body contouring procedures offered at Restore SD Plastic Surgery to improve your look and instill self-confidence. If you have lost a great deal of weight or the natural aging process has left you with loose skin on your thighs then a thigh lift might be right for you. The procedure is designed to remove excess skin from the thighs and restore a smoother and more refined contour of the legs above the knee.
A thigh lift is a body contouring procedure and is not designed as a weight loss operation. If you would like to lose a few pounds or tone up a bit before undergoing surgery please let us know – at Restore SD Plastic Surgery we can provide referrals for nutrition guidance, medical weight loss, and personal trainers.
---
The Best Candidates
Do not have venous insufficiency of the legs or history of blood clots in the leg
Are motivated to improve your thigh appearance through surgical intervention
Are healthy and have maintained a stable weight for 4-6 months (within 10 pounds)
Are satisfied with your weight prior to undergoing body contouring surgery
Are not taking blood thinner medications or using nicotine products
Are motivated to maintain a healthy lifestyle with diet and exercise
Want the self confidence to wear body conscious clothes
Have loose skin of the thighs
---
The Options
Thigh lift techniques have been refined over the last decade and your Restore SD surgeon will work with you to plan the best operative approach. If you have a bit of extra fat in addition to extra skin, liposuction of the upper thigh may be a useful addition. Sometimes liposuction is done as a separate procedure prior to removing the extra skin in order to optimize the final result.
Every individual has a unique body type that may affect final placement of the incisions and your Restore SD surgeon will discuss your goals to arrive at the surgical plan that optimizes your results.
The Surgery
Your thigh lift surgery is performed under general anesthesia in an accredited surgery center or hospital setting. The procedure usually takes 90 minutes to 2 hours. During the surgery, your Restore SD surgeon will remove the excess skin from the upper and inner thigh and sculpt the area into slimmer and more shapely appearance. When surgery is complete, you will have compression dressings placed and will have a drain in each surgical site. Thigh lift is an outpatient procedure and you will be able to go home after recovering from anesthesia.
The Recovery
Thigh lift is an outpatient surgery, so once you have recovered from anesthesia you are able to go home with a responsible adult. Ideally this loved-one or friend can stay with you for a day or two and drive you during the early recovery process. Some surgical pain is expected and will be treated with pain medications. Most patients can return to work after 2-3 weeks. Normal daily activities like showering, eating and light activity can be resumed within 48-72 hours after surgery. Some post-operative swelling is normal and generally resolves within the first 4 weeks after surgery. You should refrain from intense physical activity for 4-6 weeks. During the recovery period, you will have follow-up with your Restore SD surgeon and will be guided back to your usual activities. Most complications occur from getting too active too early, so select a surgical date that allows an appropriate amount of time to heal and gradually return to your more vigorous activities.
The Combined Procedures
Thigh Lift surgery is a very powerful body contouring procedure that restores harmony to your proportions that can be lost with weight loss or aging. The procedure can be combined with breast surgery, liposuction using the SAFELipo™ technique, or facial rejuvenation procedures. Your Restore SD surgeon will partner with you to develop a surgical plan that optimizes your result and your safety.
---
FAQ's